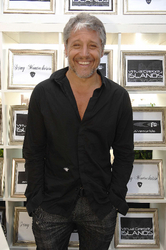 Los Angeles (Vocus) June 8, 2010
GBK (gbkproductions.com) - the luxury lifestyle gift lounge and special events company honored the 2010 MTV Movie Awards Nominees and Presenters with its Annual Luxury Gift Lounge on June 4th and 5th 2010 at The London West Hollywood.
A celebrity pet lounge complete with dog grooming, provided by Hollywood Grooming, and pet portraits, compliments of Paw Prints Pet Portraiture, was a highlight of the event and many canine guests showed up to be pampered while their owners picked up heaps of great gifts. The pet lounge also featured Bowser Beer, Friendlydogleash.com; Rockstar Puppy; Portraits by Rachael Rossman; and Bow Wow Bling for Pampered Pets.
Presenting Sponsor, Hard Candy, had a fantastic display of their makeup for guests to add to their collections and also offered makeup applications with a celebrity makeup artist. Other great health and beauty products included MaximumLash, intensive eyelash conditioner; Super Body Care, Lalo Fitness, and Lash Royalty.
Funky, fresh fashion was prominent at this lounge and guests picked up the latest in trends and up-and-coming brands. Grace Hats, the hottest trend in fashion headwear, styled guests with their Japanese Fashion Headwear; Sugar and Bruno, gifted their dance-inspired clothing and accessories; Oliver Rayn, a favorite of the male guests, gifted their stylish menswear, and FP Jeans, gifted their high end denim.
The celebrities loved the jewelry and accessories selections by some of today's freshest brands including: Vanessa Gade Jewelry Design, Stella Hamm Designs, THREE, and The Sampler. Katharine McPhee was even spotted wearing her mixed metal jewelry from My Own Little Universe during her performance at the event. Caboodles was on hand to help them keep it all together with their sleek Grande Train cases and chic 'IT' Envy Bags.
In addition to Help for Orphans, one of the event's featured charities and an organization that provides superior education facilities and materials for orphans around the world, Malaika For LIFE, was also onsite as a charity and gifted their beaded bracelets made by HIV positive and widowed women in Tanzania to raise funds for malaria medication.
Internationally-renowned DJ SiVuPlay kept the mood festive, and special performances by Katharine McPhee, John West, Abraham McDonald, Josiah Leming and Daniel Nahmod brought a real MTV vibe to the event. Celebuzz, the official media sponsor for the event, was on site to capture all the excitement and was seen interviewing many of the events engaging celebrities such as Max Ryan from Sex and the City 2, Molly Ringwald, Mike "The Situation" from Jersey Shore, Ali Landry, and cast members from Twilight including Kiowa Gordon, Edi Gathegi and Boo Boo Stewart.
Summertime would not be complete without delicious cocktails and refreshing treats, so while enjoying the performances, guests sampled Popcorn, Indiana; Coke floats from Coca-Cola; cocktails from Dolce Touch, LLC, a naturally infused hybrid luxury-vodka with no added sugar, syrup or carbohydrates; L.O.V.E. Pizza, and Hansen Cakes! For the health-conscious celebrities, Isagenix was on site showcasing their high quality nutritional products and featuring the 'Create Your own IsaShake" bar to help the celebrity maximize their nutrition, minimize calories, and drive natural energy levels in preparation for MTV Movie Awards weekend.
Two highly sought after gifts included a week stay at a Caribbean resort, compliments of Caribbean Living Magazine, and the most unique gift at the event... a 3D Virtual Island compliments of Virtual Celebrity Islands. GBK and VirtualCelebrityIslands.com gifted each attending celebrity their own 3D virtual website complete with sound stage to host live events, a penthouse for the celebrity owner, luxury virtual transportation such as Ferraris and helicopters, and above all – a unique way to engage fans and promote personal and professional interests. In addition to the gift, they also hosted the first ever Virtual Celebrity Gift Lounge where fans from all over the world flocked to see and communicate with their favorite stars and watch the live performances through the use of their own personal avatar. It was a truly original element of the lounge and a treat for all participants.
GBK, the recipient of BizBash's Award for Emmy's "Best Gift Bag," offered its exclusive list of invited celebrities, VIPs, and Media a luxurious event filled with food, drinks, live music and an exquisite outdoor environment under a canopy of 1100 white paper lanterns. It was the perfect summer kickoff party.
GBK, formerly GBK Productions, is a luxury lifestyle gifting and special events company, specializing in entertainment marketing integration. Formed in 2000 by Gavin Keilly, the company's Founder and CEO, GBK consists of five divisions: GBK Celebrity Gifting Lounges, GBK Events, GBK Weddings, GBK Charitable Consulting and GBK Marketing/PR. Widely known in the entertainment industry for bringing that little extra something into the Gifting Lounge environment, GBK offers its clients a full range of marketing services. For more information on Gavin B. Keilly (CEO), Carla Domen (VP) or GBK, please go to gbkproductions.com.
# # #