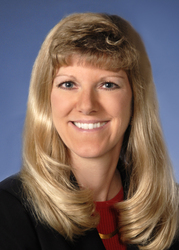 I feel fortunate to be part of such a solid and community-oriented credit union.
Tacoma, WA (PRWEB) June 9, 2010
Susan Moblo has joined the staff at TAPCO Credit Union – https://www.tapcocu.org/ - headquartered in Tacoma, as Vice President and Chief Credit Officer. Her primary focus is to direct and coordinate all lending activities with the credit union, while ensuring excellent service to members.
Moblo is a graduate of West Point and served in the Army as a Transportation Officer for five years before beginning her career in banking. She has 21 years of retail and commercial banking experience in the Pierce County and Puget Sound area.
To learn more about TAPCO, visit https://www.tapcocu.org/ or call 253-565-9895.
TAPCO has many branches located throughout Tacoma and Pierce County:
Main / 6312 19th Street W. / Tacoma, WA 98466
6th Avenue / 2802 6th Avenue / Tacoma, WA 98406
Downtown / 933 Tacoma Avenue / Tacoma, WA 98402
Puyallup / 3503 112th Street E. / Tacoma, WA 98446
Gig Harbor / 4827 Pt. Fosdick Drive NW / Gig Harbor, WA 98335
To learn about specific hours for a branch, visit https://www.tapcocu.org/.
TAPCO Credit Union was established in 1934 through the hard work and efforts of nine City of Tacoma employees. Today, over 25,000 people belong to TAPCO and each member has a voice in how the credit union operates. That voice keeps TAPCO focused on the founding members' vision of "People Helping People."
# # #