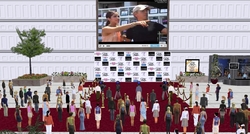 technology is powerful for someone creative, and the importance of staying ahead of trends in media and technology is invaluable.
Los Angeles (Vocus) June 8, 2010
GBK (gbkproductions.com) - The luxury lifestyle gift lounge and special events company, honored the 2010 MTV Movie Awards Nominees, Presenters and few special guests with its Annual Luxury Gift Lounge on June 4th and 5th 2010 at the London West Hollywood. GBK, the recipient of BizBash's Award for Emmy's "Best Gift Bag," offered its exclusive list of invited celebrities, VIPs, and Media an opportunity to enjoy a luxurious environment with gifts, MTV-inspired cocktails, a special pet lounge, and live performances. They also received their own virtual islands, compliments of Virtual Celebrity Islands.
Guests walked away with great gifts including vacations, fashion, luxury pet goods, and lifestyle products, but the most sought after gift of the event was the 3D virtual island websites. Boo Boo Stewart, Kiowa Gordon and Edi Gathegi from the phenomenon saga Twilight all received their virtual islands at the event and were thrilled, especially Kiowa Gordon who also has his own band and would be able to host live concerts in his virtual studio. Max Ryan from Sex and the City 2 made a point to attend the GBK Lounge just to receive his virtual island, and founder of Virtual Celebrity Islands, Samy Montechristo, was quite pleased with Max Ryan's excitement over the gift. According to Samy, Max was enthused and understood how "technology is powerful for someone creative, and the importance of staying ahead of trends in media and technology is invaluable."
Some other celebrities that came to pick up this exclusive gift were Frankie Muniz, Molly Ringwald, Paul Iacono (star of the new MTV series Hard Times of RJ Berger), members of the show Glee, and Jersey Shore cast members Mike "The Situation", Ronni, Sammi, and JWOW. Fans were able to get up close and personal with the stars live at GBK's event by attending the first ever Virtual Celebrity Gift Lounge. The virtual lounge featured live performances, celebrity interviews, and a special Q&A time with each celebrity in attendance. In between touring the virtual islands and gift lounge, exploring some of Hollywood's hottest luxury brands and meeting with other avatars, guests were able to relax and watch performances by Katharine McPhee, Abraham McDonald, Josiah Leming, John West and Daniel Nahmod. Many of Katharine McPhee fans gathered in the virtual world to show their support and listen to her sing some of her favorite songs on her new album. Both John West and Josiah Leming kept the crowd entertained by singing several of their favorite songs as well.
In addition to hosting these virtual gift lounges, GBK and Virtual Celebrity Islands will partner together throughout 2010's major award shows and special events to gift the celebrities use of these private islands for a whole year. Founded by Samy Montechristo and powered by Activeworlds, Virtual Celebrity Islands is the new home of a groundbreaking celebrity community. Each virtual celebrity island features a fully interactive 3D studio with a sound-stage for virtual live events, 300 acres of virtual land, a penthouse, and their own virtual Ferraris, limos, yachts and private helicopters. These islands are capable of housing each celebrity's social and professional networks (Twitter, Facebook, Myspace, personal blogs, etc.) and offer a way for fans to interact with their favorite stars in a new way. Live events can be hosted from the virtual studios, while archived events and photos can be posted and explored. Fans can meet with other fans, and all can be invited to visit live with the celebrity themselves. It is expected that close to 200 celebrities will be gifted residency on these islands over the next year. Celebrity sponsors and brands will have the opportunity to 'move in' next to these celebrity dwellings and fans from all over the world will get to experience their favorite celebrities' space in this groundbreaking 3D celebrity community.
About GBK
GBK, formerly GBK Productions, is a luxury lifestyle gifting and special events company, specializing in entertainment marketing integration. Formed in 2000 by Gavin Keilly, the company's Founder and CEO, GBK consists of five divisions: GBK Celebrity Gifting Lounges, GBK Events, GBK Weddings, GBK Charitable Consulting and GBK Marketing/PR. Widely known in the entertainment industry for bringing that little extra something into the Gifting Lounge environment, GBK offers its clients a full range of marketing services. For more information on Gavin B. Keilly (CEO), Carla Domen (VP) or GBK, please go to gbkproductions.com.
About Samy (S@my):
Samy Montechristo is the founder of Virtual Hollywood. His motto: "Get every star an Avatar!". For the past 10 years Samy has spent more time in virtual reality than in the 'real world' which makes him a real life avatar. He was prominently featured as one of the World's leading 3D internet experts at the Consumer Electronics Show. He has invented entire virtual ecosystems and created more than 1000 virtual 3D destinations for top Fortune companies. When added together these properties are the size of England. By attracting audiences from around the world, Virtual Tourism is a promising way to generate a new form of revenues for the U.S. Economy. For more information on Samy Montechristo, please go to virtualhollywood.TV
About Virtual Celebrity Islands:
Virtual Celebrity Islands is an interactive 3D city emerging on the 3D internet. Its purpose is to give a global audience a new way to get up close and personal with their favorite stars, to offer celebrities a new form of creative expression and to create new jobs for the entertainment industry. To visit the islands and keep informed on upcoming events, please visit http://www.virtualcelebrityislands.com
About Activeworlds:
Since 1995 Activeworlds has been the ultimate pioneer in virtual 3D worlds and Avatar based social networking software. Having delivered virtual real estate the size of the American and European Continents combined, Activeworlds maintains its leadership in ultra light virtual 3D world software and design. For more information on Activeworlds, please go to activeworlds.com
###