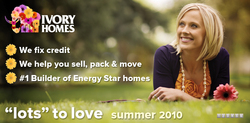 By taking care of our clients with unique programs designed to make the process easier, we're finding that prospective homebuyers that were hesitant are increasingly turning to Ivory. Our quality and reputation have simply been enhanced by these programs.
Salt Lake City, Utah (PRWEB) June 9, 2010
Ivory Homes has been selected as one of the top 50 builders in the nation for 2009 in a report recently released by Builder Magazine. This important and prestigious ranking was based on the total number of home closings reported in 2009. Ranked number 50 in the list of top 100 home builders nationally, Ivory Homes has had a strong year in regards to home closings when compared to other builders nationwide. Ivory Homes has appeared on this prestigious home builder industry ranking list yearly since 2004.
Not only did Ivory homes place in the top 50, of all home builders reviewed by Builder Magazine nationwide for home closings, but they ranked 11th in home closings by privately held home building companies who specialized in building luxury homes in the nation and 18th for closings of home builders located in the Southwest.
Nate Packer, Project Manager for Ivory Homes based in Salt Lake City, Utah says "This top ranking demonstrates that Ivory Homes has been able to weather the economic storm better than most local and even national builders." Mr. Packer offers that two new and innovative Ivory Homes home buyer programs helped consumers in this tough economy be able to close on their newly built homes. "Our Ivory Financial Fitness Program has helped potential buyers be able to close on homes by providing one-on-one consultation, help from a special credit repair attorney, and counseling from a third party non-profit organization called AAA Fair Credit." Mr. Packer goes on to say that "by using this unique assistance program, over 30 hopeful Ivory Home buyers were actually able to close on their new homes in Utah this past year alone."
Another innovative program that Ivory Homes used that helped drive sales in 2009 was the Smart Move Advantage Program. Project Manager Nate Packer says, "This program teams potential new home buyers with strong performance achieving veteran real estate agents in their own market. These agents aggressively assist our potential home buyers in selling their old home. By receiving a rebate back on real estate commissions from these specially selected agents, our new home buyers are then able to use the money they have received to pack, move, and clean their old home, to offset closing expenses, or to decorate their new Ivory Home."
Both programs have helped Ivory Homes to grow their sales base in Utah by helping new home buyers in the areas that they themselves have expressed the most concern; getting a new home loan and selling their old home. It is clear from the ranking statistics provided by Builder Magazine, that these two innovative home buying assistance programs helped Ivory Homes retain a strong selling position when other home builders were experiencing difficulty in closing new homes.
Ivory Homes is already planning ahead to be selected as a top home builder in the 2010 rankings. Nate Packer of Ivory Homes states, "What are we doing for 2010? We've already started work on 10 new communities in Utah. Also by paying off all of our corporate debt in 2009, we have strengthened our financial position allowing us to buy lots and build available homes for quick delivery while other builders are tied up financially."
For additional information on the new initiatives that Ivory Homes has created to make home buying easy and affordable for new home buyers in Utah, or for additional information on their newly received top nationwide home builder ranking, please contact Jim Dunford the Marketing Director at Ivory Homes.
About Ivory Homes:
Ivory Homes is one of the top 50 home builders in the United States based on closings. They are Utah's number one home builder based on the number of homes built, quality delivered, and in customer service. Ivory Homes has retained this prestigious ranking in Utah the last 23 consecutive years. Ivory Homes has 48 home developments located along the Wasatch Front and St. George. As the premier home builder in Utah and one of the top builders in the nation, Ivory Homes focuses on customer satisfaction in all they do.
###