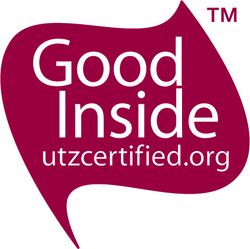 We are excited to be working with both mainstream tea companies and tea growers around the world to bring excellent teas to market grown to strong environmental and social standards
Boston, MA (Vocus) June 8, 2010
Imke van Gasselt, program manager for UTZ CERTIFIED's tea sustainability program, will discuss the organization's work with tea growers in eight countries to support tea production's Three Pillars - people, planet, and profit - at the World Tea Expo in at the Las Vegas Convention Center on Sunday, June 13, 2010. At the 8 a.m. presentation, "Social Responsibility and Certifications," Imke will address the organization's all-encompassing Code of Conduct and on-the-ground tea program, and she and UTZ CERTIFIED general manager Graham Mitchell will also be at the organization's booth (616).
UTZ CERTIFIED, a leading global agricultural sustainability program also working with coffee and cocoa, officially launched its tea program in 2009 and is already working with both small-holders and estate tea growers in Argentina, China, India, Indonesia, Kenya, Malawi, Sri Lanka, and Vietnam. The Code of Conduct addresses good agricultural and business practices and includes both social and environmental criteria, all of which train farmers to be professionals. For example, higher quality tea brings in higher prices, while reduced pesticide use and less toxic inputs results in less risk to humans and the environment and improves quality of their crop, and protective clothing and equipment at the factory level results in increased employer safety and could even lead to reduced insurance costs! Certifications are granted through a third party independent certifier.
UTZ CERTIFIED is also the first sustainability program to provide a field-to-cup online "track and trace" system for its coffee and is extending the system to tea by the end of 2010. This enables companies to ensure the tea they purchase actually is in the bags they receive, and means that consumers can track their tea back to the farms where it was grown and read stories about "their" farmers on the organization's website.
Sara Lee was the first mainstream brand to source UTZ CERTIFIED tea, and its ®: PICKWICK® brand, which includes the certified tea, is sold throughout the Netherlands and soon will be sold in other countries. The company will bring 2,000 tons of UTZ CERTIFIED tea to market in 2010, comprising one-third of the company's total European tea volume.
"We are excited to be working with both mainstream tea companies and tea growers around the world to bring excellent teas to market grown to strong environmental and social standards," said van Gasselt.
UTZ CERTIFIED Good Inside
UTZ CERTIFIED (http://www.utzcertified.org) is a sustainability program founded in 1997 and based in the Netherlands. It is active in 22 origin countries, with a U.S. office near Boston, MA. UTZ CERTIFIED enables farmers to become business people with the results being improved product quality and yield, lesser costs, and lower environmental impact. Sustainably grown and traceable products provide a better market position for farmers. UTZ CERTIFIED provides the assurance of 'good inside' products, grown with care for people and the environment.
Contact:
Sandra Marquardt
301-592-0077
smarquardt(at)onthemarkpr(dot)com
# # #