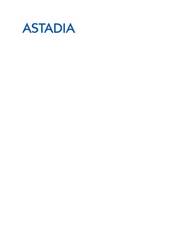 Astadia has created an agency program that provides performance oriented execution with integrated improvement strategies lead scoring or nurturing, campaign generation, data management or marketing effectiveness
Addison, TX (Vocus) June 9, 2010
Astadia, the largest pure-play Cloud Computing integrator and a top Salesforce.com and Eloqua partner, today announced the launch of a world class marketing support and agency service, including quarterly best practice sessions for Eloqua users.
Traditional marketing service providers typically offer support and agency services, without ongoing best practice sessions. In contrast, Astadia's Eloqua Performance Program combines Collaborative Marketing Business Review sessions, Continuous Improvement Workshops and Marketing Agency Services.
"Astadia took care of our project from start to finish; without them we would not have met our goal", said Margaret Angell, Marketing Manager for Sitel, US.
"Astadia has created an agency program that provides performance oriented execution with integrated improvement strategies lead scoring or nurturing, campaign generation, data management or marketing effectiveness", said Paul Teshima, Senior Vice President, Customer Strategy and Success for Eloqua.
"Marketing is coming under increasing pressure to provide better results with fewer budgets", said John Miller, CMO of Astadia. "This is steering the constant review of 'return-on-marketing' spend. Success takes more than running more marketing campaigns to increase revenues. The balance between strategy and execution is critical."
Since partnering with Eloqua in 2004, Astadia has helped more than 200 Eloqua customers realize greater marketing returns. Astadia's clients have attained more Eloqua Markee Awards than any other Eloqua partner clients, and Astadia recently landed the Eloqua 2009 Partner Award for Most New Business Referred. Astadia helps clients improve results with multi-vendor solutions, while avoiding the problems that come with purchasing and integrating multiple technologies.
For more information about the Eloqua Performance program please visit http://EloquaPerformanceProgram, or astadia.com and eloqua.com.
About Astadia
Astadia is the world's largest pure-play Cloud Computing integrator. As the #1 partner for Salesforce.com, Eloqua, Right90, and many other top SaaS (Software as a Service) technologies, we improve customer lifecycle management in marketing, sales, and customer service – the functional areas that most companies move to the Cloud first.
As the IT Cloud Transformation (ITX) innovator, we deliver strategic analysis, operational design, technology deployment, and ongoing support for companies moving IT infrastructure or applications to the Cloud.
With offices in the U.S., Europe, and Asia, our certified technology experts and process improvement consultants have delivered solutions in more than 30 countries. Our technology partners include salesforce.com, Amazon Web Services, Google, and many more.
Astadia's unique methodology connects years of Cloud and SaaS technology savvy with the day to day business challenges of a wide variety of industries. Our clients include many Fortune 500 companies, nonprofit and educational institutions, as well as small and medium sized companies.
Media Contact:
Lori Vierthaler, Public Relations Director
1-972-865-2603
# # #