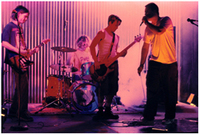 The safest place for your valuables is in the lockers provided by most festival organisers
(Vocus) June 10, 2010
Festival-goers have been enjoying the very best in live music for years, but people are frequently deterred by the lack of personal security facilities available at some venues.
This may include lockers to hold any valuable items they bring, or other storage systems used to temporarily hold things while they sample live acts in a carefree way without worrying about their belongings.
Lockers provided by Action Storage are one particular solution which would enable people to attend festivals without the stress and worry, with the likes of eXtreme® plastic lockers helping to provide peace of mind.
These provide protection against the elements thanks to their cold and rain-resistant coating, and also prevent intrusion from thieves and vandals due to the ultra-strong hinges which can withstand up to 3200N before breaking.
The need for an effective storage solution at outdoor music events was recently illustrated by an article in the Guardian, which recommended that festival-goers locate a suitable place to put their belongings when they arrive, such as lockers.
Equipment such as eXtreme® plastic lockers would help people travelling to Leeds, Reading, Glastonbury or any other location this summer.
"The safest place for your valuables is in the lockers provided by most festival organisers," the newspaper said.
Before last year's Glastonbury extravaganza, a spokesman for the Avon and Somerset Police stressed the importance of on-site storage systems.
"The main thing that we will be promoting this year is the lock-ups because no one uses them and they're free," he explained.
LoveMoney.com has also told festival attendees that placing items in lockers may be important for insurance purposes, as any valuables are well-protected from thieves and damage.
"If you really must bring certain valuables with you, a much better option is to make use of the 24-hour lockers" the website stated.
Doing this would then avoid makeshift solutions such as placing a padlock on a tent, the source comments.
As Action Storage supplies eXtreme® plastic lockers to ensure that festival-goers' belongings are safe and dry, protecting valuables has never been easier.
About Action Storage
For over 23 years Action Storage (http://www.action-storage.co.uk) has supplied shelving, lockers, racking and storage equipment using the latest materials and innovative designs. Their clients include retail, warehouses, schools, government offices and anyone else requiring high quality storage solutions throughout the UK and mainland Europe.
Action Storage pride themselves on their high service levels, and provide a free, unique advice line for discussing your requirements and assessing the perfect solution.
For service enquiries contact:
Website: http://www.action-storage.co.uk
Tel UK: 0800 592215
Outside UK: +44 (0)1908 525700
Fax: +44 (0)1908 321650
###