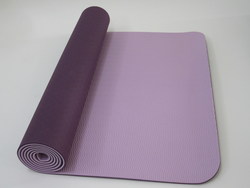 "People who love yoga tend to love taking care of the earth as well, which is why SunShineYoga.com is proud to offer this eco-friendly yoga mat at such a great, low price," said site Owner Russ Snapper.
Charlotte, NC (PRWEB) June 14, 2010
Yoga enthusiasts are discovering the comfort and clear consciousness of choosing eco-friendly TPE foam mats for their yoga practices. A new yoga mat made from Thermal Plastic Elastomer foam is now available through SunShineYoga.com at a price lower than offered by most yoga mat distributors.
SunShineYoga's Ohana Mat™ contains no latex, PVC or rubber and uses no toxic materials in its production, making it earth-friendly and consumer safe. Featuring a closed cell construction, this TPE yoga mat prevents absorption of fluids, making it easy to keep sanitary.
The Ohana Mat™ is designed for non-slip performance and has an extra soft surface. With thick dimensions ¼" and 69" length x 24" width, the eco yoga mat is ideal for any type of yoga workout. The TPE yoga mat is biodegradable and safe for the planet, as well as comfortable for the body, making it perfect for practicing yoga anywhere from hardwood floors to grassy backyards.
SunShineYoga.com's 100% satisfaction guarantee offer allows customers to return the product for free within 30 days if they are not satisfied.
For additional information about the eco friendly TPE Ohana Mat™ and SunShineYoga's other products, visit http://www.sunshineyoga.com, call toll free 800-316-0806, or e-mail at [email protected] Customer service is available from 9 a.m. to 5 p.m. (EST) Monday through Friday.
For wholesale yoga mats or resell inquiries, please contact us at (704) 966-9642.
# # #