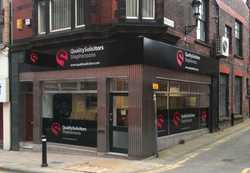 In the future", says Holt, "going to QualitySolicitors for legal matters will be as familiar and as easy as going to an opticians for an eye test or Thomas Cook for a holiday.
(PRWeb UK) June 9, 2010
Leading local law firm, Burroughs Day, is set to spearhead the launch of the next generation of legal services, opening its new re-branded branches, under the name QualitySolicitors Burroughs Day in Bristol and Portishead. The new stores - Coombe House, Coombe Road, Portishead, North Somerset BS20 6BJ and 14 Charlotte Street, Bristol, BS1 5PT – will be opened by TV star Stacey Soloman on Friday 11 June at 3.30pm (Portishead) and 5.30pm (Bristol).
Burroughs-Day joins 14 other re-branded local High Street law firms in the first phase of a move to create a new national legal 'superbrand', QualitySolicitors.
The openings signal the establishment of a groundbreaking new High Street legal services brand which is set to shake up the UK High Street, and fight the predicted future dominance of supermarket legal services.
Click here for The Times article - Law firms take up the supermarket challenge 20 May 2010.
In an unprecedented move, QualitySolicitors has chosen over 200 high quality law firms across the UK, the first phase of which is the launching and re-branding under the QualitySolicitors name.
The move will, for the first time, see the development of a national, recognised legal brand sitting alongside the banks, opticians and fashion stores in the UK's high streets. "What the legal market is desperately missing is a recognisable, customer service focused, national brand - a 'household name' - that people can rely on without having to spend hours researching and choosing between dozens of local law firms," said QualitySolictors CEO and barrister, Craig Holt who will be at the opening of the new branches.
QualitySolicitors plan to open branches in every major town and city within 12 months. The new branches will include locations in major shopping centres and have uniformed customer care staff, extended opening hours, free initial consultations and a range of fixed fee services.
The move is designed to head off the threat to independent High Street firms, posed by major retailers, like supermarkets, who will soon be able to enter the legal market, creating a so-called 'Tesco Law' legal market.
"Already the likes of the Co-op and Halifax are starting to offer legal services," says Holt. "They view the legal market as 'easy pickings' because of the traditional, stuffy image of a law firm. QualitySolicitors' new network of branches will blow that perception away. We can do everything they can do in a customer service sense – only better, because our branches are real law firms not supermarkets or banks playing at it."
Many have predicted that "Tesco Law" will signal the end for independent law firms but QualitySolicitors are confident their move will provide stiff competition for these big brands. "Few expected lawyers themselves to create this next generation of legal service but that is exactly what QualitySolicitors provides."
"In the future", says Holt, "going to QualitySolicitors for legal matters will be as familiar and as easy as going to place like Specsavers when needing an opticians or Thomas Cook for a holiday. QualitySolicitors will change people's expectations in accessing legal services and make it easy, enjoyable even, to simply call in while out shopping and discuss their legal issue. Our down to earth, plain speaking service promises no hidden costs, free initial advice, direct lawyer contact details and a guaranteed same day response to all customers' calls and email. This is just the start of a series of innovations that will totally change people's experience of using a law firm".
All QualitySolicitors branches are run by an existing local law firm – with some firms rebranding their existing offices and others opening purpose built branches in town and city centre locations. "Which local law firm is chosen to become a particular area's QualitySolicitors firm", says Holt, "is decided by comparing feedback on each firm from the people that really matter – the public. That is the reason for our tagline – 'Chosen by you'".
Professor Stephen Mayson, Director of the Legal Services Policy Institute, described the QualitySolicitors move as a "game changer...that could leave traditional law firms wondering where their business has gone".
Managing Partner of one of the first new QualitySolicitors branches, QualitySolicitors Burroughs Day in Bristol, John Baden-Daintree said, "Creating the first 'household name' national legal brand is an exciting development for the UK's high streets and will fundamentally transform the legal market".
For further information please contact:
Simon Whittam @ Onshore Media
on: 01752 823414 or 078 0241 6420
Email: simonwhittam(at)weareonshore(dot)com
Or Dawn Bebe on 07831 790416
dawnbebe(at)weareonshore(dot)com
###