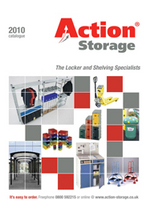 (Vocus) June 11, 2010
Storage specialist Action Storage has announced the release of its new catalogue which has been expanded to 160 pages to include 100's of new products. Featuring a wide range of modern, innovative shelving and storage solutions, Action Storage's new range is expected to be of interest to a wide variety of both private and public sector organisations wishing to improve their storage facilities.
Catalogue and gift packs can be ordered for free on Action Storage's website, where you can also download PDF versions of the different sections.
Some of the product highlights in the new catalogue include:
'Really Useful' box archive shelving kits – Ideal for office or archive storage, each kit comprises of a versatile Supershelf™ shelving bay and a range of patented durable and transparent 'Really Useful' boxes, which are available in 19, 35 or 42 litre sizes.
Timber shelving - Made from North European pine, these lightweight and attractive storage shelves are suitable for a variety of environments, including manufacturing, retail and offices. They are fully adjustable and available in a range of depths and widths.
Charging laptop trolleys – These cost effective trolleys enable a large number of laptops to be easily moved between classrooms or offices. Each individual compartment is fitted with a charging socket, to enable stored laptops to be recharged so they're ready for use, as well as ventilation to prevent the risk of overheating. Three different laptop trolley sizes are available for storing between 8 or 16 laptops.
Fun themed school bins - These colourful and brightly decorated bins offer a great way of encouraging children at primary schools and nurseries to put rubbish where it belongs. Made from environmentally friendly plastic, the fun themed school bins are designed to imitate colourful mushrooms and will brighten up any school yard. Themed school bins designed to look like large colouring pencils are also available.
Roll pallets – Action Storage now supplies a variety of roll pallets for use in warehouses and transportation. The range includes space saving roll pallets which can be folded away or quickly dismantled (ideal for delivery vehicles) and security roll pallets with sealable mesh enclosures for safeguarding high value items.
Executive smoking shelters - These smart executive smoke shelters are hexagon shaped with clear perspex sides and allow greater than the 50% open area recommended for smoke shelters. Perfect for keeping smokers dry outside any corporate headquarters.
Details of these products and the 100's of other new additions to the Action Storage range can be found its website, where the new catalogue can be ordered or downloaded free of charge. Public sector organisations can place orders on credit and all online orders receive a 5% discount.
About Action Storage
For over 23 years Action Storage has supplied shelving, racking and other storage equipment using the latest materials and innovative designs. Its clients include supermarkets, warehouses, government offices, schools and anyone else requiring high quality storage systems throughout the UK and mainland Europe.
Action Storage prides itself on its high service levels, and provides a free, unique advice line for discussing your requirements and assessing the perfect storage solution.
For service enquiries contact:
Website: http://www.action-storage.co.uk
Tel UK: 0800 592215
Outside UK: +44 (0)1908 525700
Fax: +44 (0)1908 321650
Action Storage
6 Fitzhamon Court
Wolverton Mill South
Milton Keynes
Bucks
MK12 6LB
# # #