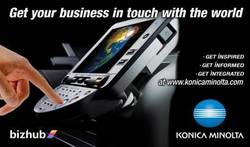 Our new ad campaign will initially promote an important new product line, the bizhub 423 series, and reinforce the message that customers worldwide can count on Konica Minolta for all of their office product needs
Mississauga, ON (Vocus) June 9, 2010
Konica Minolta Business Solutions Canada, Ltd. (Konica Minolta), a leading provider of advanced imaging and networking technologies for the desktop to the print shop, today announced the launch of a national advertising campaign to support the corporate brand and focus attention on the company's new bizhub 423 Series of MFPs (print, copy, fax, and scan all in one system), which have recently begun shipping.
The new, one-year advertising campaign will showcase the following:

Television - Featuring a new slogan of Count on Konica Minolta and customized for Canada, the new ad campaign focuses on delivering a reliable, trustworthy solution that exceeds customers' copier product and service needs. Viewers will come to know personalities Bev and Milt, who quickly learn the value of Konica Minolta's award-winning line of MFPs and printers, and come to rely on the certainty and trustworthiness that comes from a partnership with Konica Minolta. The two 30-second spots will air in rotation from June-September on CBC News Express within Lester B. Pearson Airport. New commercials will air beginning in September.
Out-of-home advertising at the Lester B. Pearson Airport – Beginning today, banner advertising will showcase the newly launched bizhub 423 Series of MFPs in the airport terminals to begin and will be update as new products launch this year.
"Our new ad campaign will initially promote an important new product line, the bizhub 423 series, and reinforce the message that customers worldwide can count on Konica Minolta for all of their office product needs," said Shawn [Shigeki] Shimano Director of Marketing. "We are excited to launch both TV commercials and banner advertising in key locations starting with the Pearson Airport where our customers and prospects frequent so that we can demonstrate how Konica Minolta is distinguishing itself in the competitive MFP marketplace."
bizhub 423 Series
The bizhub 423 Series of MFPs the bizhub 423, bizhub 363, bizhub 283 and bizhub 223. With more than 1,000 new features than the predecessor series, the bizhub 423 Series offers customers the cost-efficiency of monochrome MFPs with the added benefit of color scanning and is a great choice for customers requiring the level of functionality offered by innovative mid-range MFPs.
Offering one of the fastest color scanning in their respective product segments, the bizhub 423 Series was designed to meet the needs of customers ranging from small businesses and workgroups all the way up to enterprise-level print fleets. End users can choose the specific model that best meets their desired print speed needs:

bizhub 423: 42 pages per minute (ppm)
bizhub 363: 36 ppm
bizhub 283: 28 ppm
bizhub 223: 22 ppm
All four MFPs allow users to scan documents to Email, FTP server, SMB or perform TWAIN scanning from PCs, and boost user productivity with color and monochrome scanning speeds of up to 70 originals per minute (300 dpi).
About Konica Minolta
Headquartered in Mississauga, Ontario, Konica Minolta Business Solutions (Canada) Ltd. delivers world-class service through its extensive network of direct sales offices and authorized dealers throughout Canada. Konica Minolta is a leader in advanced imaging and networking technologies bringing together advances in security, print quality, and network integration via its award-winning line of bizhub® multifunction products (MFPs); bizhub® PRO production printing systems; magicolor® desktop colour-laser printers and all-in-ones; and pagepro™ monochrome desktop laser printers and all-in-ones. Konica Minolta also provides advanced solutions and software applications for device administration, document management, forms and variable data, cost accounting, print production, and more. For the third consecutive year, Konica Minolta was recognized as the #1 Brand for Customer Loyalty in the MFP Office Copier Market by Brand Keys.
For more information, please visit Konica Minolta at http://www.konicaminolta.ca/business
Learn more about Konica Minolta's bizhub line-up of products at http://www.allyouneedishub.com
For more information about Konica Minolta's environmental initiatives visit http://www.konicaminolta.ca/environment
Konica Minolta Contact
Michelle West
Konica Minolta Business Solutions (Canada) Ltd.
Tel: (905) 890-6600 Ext. 394
Konica Minolta is a registered trademark of Konica Minolta Holdings, Inc. All other trademarks mentioned in this document are the property of their respective owners.
###