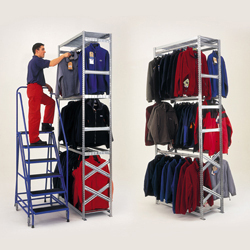 (Vocus) June 12, 2010
Supershelf™ is an innovative and versatile shelving system that can be customised to suit a variety of applications and increase the capacity of any storage area.
The height adjustable shelves and ability to slot together multiple units enables the Supershelf™ to be customised to make maximum use of any retail or storage space. Modular accessories, such as storage bins and shelf dividers, can also be added to increase the variety and quantity of items stored.
The Supershelf™ versatile range includes arrangements designed for garment hanging, shoe box storage and even tyre racking.
Supershelf™ benefits include:

Maintain higher stock levels
Retailers can rotate a wider variety of items to keep the store fresh
Reduce the frequency and cost of restocking
Smooth and easy assembly enables storerooms to be rearranged quickly and safely
Customise shop floor arrangements to promote different product ranges
Individual shelf loads up to 500kg
Details of Action Storage's SuperShelf™ range, secure lockers and storage systems can be found on our website, where you can also order a free catalogue and join our mailing list for updates on our latest products and special offers.
About Action Storage
For over 23 years Action Storage (http://www.action-storage.co.uk) has supplied shelving, lockers, racking and storage equipment using the latest materials and innovative designs. Their clients include retail, warehouses, schools, government offices and anyone else requiring high quality storage solutions throughout the UK and mainland Europe.
Action Storage pride themselves on their high service levels, and provide a free, unique advice line for discussing your requirements and assessing the perfect solution.
For service enquiries contact:
Website: http://www.action-storage.co.uk
Email: sales (at) action-storage (dot) co.uk
Tel UK: 0800 592215
Outside UK: +44 (0)1908 525700
Fax: +44 (0)1908 321650
###