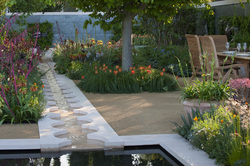 This year saw Tom take on a bigger plot than ever before at Chelsea, and he has worked incredibly hard to create such a unique and imaginative garden. He thoroughly deserves to be awarded this medal by the RHS.
Milton Keynes, UK (PRWEB) June 9, 2010
Foreign & Colonial Investments' Garden, supported by Homebase and designed by award-winning garden designer Thomas Hoblyn, has been awarded a prestigious Silver Gilt medal by the show's judges.
Inspired by the 18th century satirical novel Candide by French author Voltaire, the Mediterranean-style Foreign & Colonial Investments' Garden has been designed to represent the ill-fated travels of Candide as he journeys around the world, across oceans and rapids, in search of his lost love Cunégonde. It features plants, paving, garden furniture and accessories from Homebase.
Receiving his medal, Hoblyn said: "I've really enjoyed creating this garden for Foreign & Colonial Investment Trust. It's the largest and most ambitious design I've done for Chelsea so far. I'm very proud of the garden and thrilled to be awarded a Silver Gilt Medal for it. I'd like to thank Homebase for supplying all the wonderful plants and accessories and Foreign & Colonial for their overall sponsorship."
The garden drew some of the show's biggest crowds with a series of performances. First the model whose body was used to cast the copper statues of Cunégonde that line the garden's lushly planted walls brought the statues to life with a thrilling dance performance. Later, punk poet John Cooper Clarke entertained the Press Day audience with some of his own work before reading from the closing moments of Candide, the book that inspired Hoblyn to create the garden. Then came an electrifying live set under the midday sun from string quartet Escala.
Hoblyn won a gold medal in 2008 for Tempest in a Teapot, a small Urban Garden that marked both his Chelsea debut as a designer and the beginning of his association with headline sponsor Foreign & Colonial Investment Trust (FCIT). He had previously worked with Homebase for the RHS Hampton Court Palace Flower Show, where he also won gold.
Last year's bigger Show Garden, subtitled Waves of Change, again sponsored by FCIT, featured a giant redwood sculpture and was awarded a silver medal.
During its 142-year life Foreign & Colonial Investment Trust has outlasted 24 Prime Ministers. However, the current Queen, who visited the show along with other members of the Royal family, is only the sixth monarch since the Trust first pioneered collective investing under Queen Victoria.
Simon Fraser, Chairman of Foreign & Colonial Investment Trust, said: "We are delighted that our garden has received a Silver Gilt medal, building on the silver medal Tom received last year for his 'Waves of Change' design. This has been our most ambitious garden to date and it has been a pleasure to watch it take shape over the last few months."
Jeremy Tigue, manager of Foreign & Colonial Investment Trust, added: "This year saw Tom take on a bigger plot than ever before at Chelsea, and he has worked incredibly hard to create such a unique and imaginative garden. He thoroughly deserves to be awarded this medal by the RHS."
Amy Whidburn, trading director for Garden & Seasonal at Homebase, commented: "It's fantastic that Tom's tremendous effort and hard work has been rewarded with a Silver Gilt medal. We are extremely proud to be involved and it is exciting to see Homebase plants and accessories used in such an innovative way within the garden design."
With an eye on sustainability, the entire garden will be sold after the show and all proceeds will be donated to the British Heart Foundation, Homebase's official charity partner.
For more information on the garden, or to arrange an interview with Thomas Hoblyn, please contact Suzanne Hind on +44 (0) 7813 208 168
For more information on Foreign & Colonial Investment Trust, or to arrange an interview with manager Jeremy Tigue or chairman designate Simon Fraser, please contact Sarah Godfrey on +44 (0) 20 7011 4215
F&C Press enquiries: +44 (0) 20 7011 4600
For more information on Homebase's involvement, please contact the Homebase press office at iris PR:
Press office: 020 7922 8122
Robin Davies: 020 7654 7657
Amy Richards: 020 7922 8126
Notes to Editors
Foreign & Colonial Investment Trust

Foreign & Colonial Investment Trust PLC (FCIT) is one of the largest global growth trusts listed on the London Stock Exchange, with assets of £2.2 billion as at 31 March 2010 and over 109,000 private investors owning 84% of the shares.
The objective of FCIT is to secure long-term growth in capital and income through a policy of investing primarily in an internationally diversified portfolio of publicly listed equities, as well as unlisted securities and private equity, with the use of gearing. Approx 34% of FCIT's assets are invested in the UK, 21% in the USA, 10% in Europe, 10% in Emerging Markets, 5% in Japan, 5% in Developed Asia and 15% in Private Equity.
Over the years FCIT has helped finance a diverse range of projects and industries such as North Sea Oil, Cats (the musical), the Independent Newspaper, the Channel Tunnel and, more recently, Resolution Life.
FCIT is run by an independent Board of Directors responsible for governance, strategy and results, while management of the investments is carried out by F&C Management Limited under contract.
FCIT owns the name "Foreign & Colonial" and F&C Asset Management PLC owns the name "F&C". There are no cross-directorships, no cross-holdings and no conflicts of interest between FCIT and its Manager, F&C.
http://www.foreignandcolonial.com
F&C Investments

F&C Asset Management (F&C) is an independent London Stock Exchange listed asset management group with around 100,000 shareholders.
F&C traces its origins to 1868 with the launch of Foreign & Colonial Investment Trust, the first ever publicly listed investment fund. Foreign & Colonial Investment Trust remains a client of F&C.
F&C is an active fund manager with a multi-specialist investment model where individual teams have strong accountability for their products and processes. The group is also an active shareholder with a leading franchise in governance and sustainable investment.
F&C manages £101.5 billion (€113.8 billion) of assets* for a diverse range of institutional, insurance and retail clients across all major asset classes - equities, bonds, cash and property - as well as alternative and specialist product classes. F&C invests globally and has been a longstanding investor in emerging markets.
F&C has three pillars to its strategy: Advisory & Solutions - the servicing of strategic partners and the provision of investment solutions and overlays such as shareholder engagement programmes, Liability Driven Investments, Asset & Liability Management, Multi-Manager and Fiduciary Management; Alpha Investing - active fund management across a diverse range of asset classes and markets but with a focus on UK and European equities and fixed income and Emerging Markets; Environmental, Social & Governance Investing - building on its market leading presence in ethical investment with new products.
F&C REIT Asset Management is the group's global property asset management business. It was formed in 2008 from the merger of F&C's property division and REIT Asset Management. F&C REIT operates from offices in London, Dublin, Munich, Mumbai and Stockholm.
F&C manages assets principally from three investment centres: London, Amsterdam and Edinburgh. The group has a global office network spanning a dozen countries: China (Hong Kong), France (Paris), Germany (Frankfurt & Munich), India (Mumbai), Ireland (Dublin), The Netherlands (Amsterdam), Portugal (Lisbon), Sweden (Stockholm), Switzerland (Geneva), UK (London, Edinburgh, Dorking) and the United States (Boston).
In March 2009 F&C signed a Memorandum of Agreement with Hua Xia Bank, one of China's twelve nationwide joint stock commercial banks, to establish a joint venture fund management company in China in which F&C will have a 19.5% interest.
In April 2010 F&C announced a conditional agreement to acquire the Thames River Capital group. Thames River Capital is a London based asset manager focused on specialist and absolute return products with £4.2 billion assets under management. The acquisition is expected to complete in or before the third quarter of 2010.
As at 31 March 2010.
About Homebase
Homebase is the UK's second largest home improvement retailer and is recognised for choice, style and customer service across the wider home enhancement market. It has more than 300 large, out-of-town stores throughout the UK and Republic of Ireland. In the last financial year, Homebase sales were £1.6 billion and it employed some 20,000 people across the business.
Homebase sells over 30,000 products across its home enhancement ranges, and has a growing Internet offering. Homebase serves 60 million customers per year through its stores and offers customers the convenience of home delivery for bulky, high-value items.
Homebase was the first UK DIY retailer to achieve Forest Stewardship Council Chain of Custody certification and the first national DIY retailer to be recognised with a Government TrustMark Award, achieved for its kitchen installation service.
Homebase is part of Home Retail Group, the UK's leading home and general merchandise retailer.
###