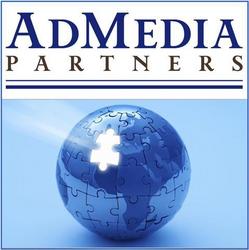 The combined firm expects to do $50 million in revenue this year, up from Olson's mid 30's in 2009.
New York, NY (PRWEB) June 8, 2010
M&A firm AdMedia Partners today announced that it acted as exclusive financial advisor to Denali Marketing, a fast-growing full-service marketing agency with a focus on loyalty, in its merger with OLSON, an independent, privately held agency recently named to Ad Age's "Agency to Watch" list for its "out-of-the-box thinking." The merged companies are forming a new specialty discipline of OLSON called OLSONdenali.
With the addition of Denali Marketing, OLSON is now one of the top 10 independent full-service marketing agencies in the United States, delivering one of the most comprehensive integrated offerings in the country. The 300-person strong agency is dedicated to building and activating brand communities by combining insight, ingenuity and accountability. In an interview with the Star Tribune, OLSON founder and Chairman John Olson said, "The combined firm expects to do $50 million in revenue this year, up from Olson's mid 30's in 2009."
Denali Marketing, founded in 2006 by loyalty marketing veterans Mark Lacek, Peter Brennan and Greg Heinemann, has rapidly emerged on the national stage as a breakout, next-generation loyalty-marketing firm. Denali has about 80 employees.
OLSON partnered with KRG Capital Partners, a Denver-based private equity firm to assist in the recapitalization of OLSON as part of the management's plans for continued future growth and to complete the Denali Marketing merger.
About AdMedia Partners
AdMedia Partners is a leading M&A advisor that provides middle market mergers and acquisition advisory services to digital and traditional media, marketing and information businesses. Founded in 1990 and located in New York City, the firm has completed over 175 transactions worth over $7 billion since 1999. For more information about AdMedia Partners, please visit http://www.admediapartners.com.
About OLSON
OLSON, together with Denali Marketing, is now one of the top 10 independent, full-service agencies in the U.S. Holistic by design, OLSON aims to be the leading brand connection agency in the world by providing brand strategy, advertising, interactive, social engagement, design, public relations, media, loyalty and analytics for the world's most respected brands. For more information, visit http://www.oco.com or http://www.denalimarketing.com.
###