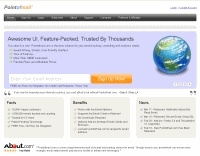 Pointofmail.com provides revolutionary features allowing the sender to control the content of sent email - change email content after it sent, make it retractable and even self-destructible
Pasadena, CA (PRWEB) June 9, 2010
Pointofmail.com, a start-up company developing innovating email solutions, announced today the release of a new Pointofmail.com website and service allowing to send, track and control sent email. Pointofmail.com offers email tracking information such as when, where and for how long email is read. Pointofmail.com provides revolutionary features allowing the sender to control the content of sent email - change email content after it sent, make it retractable and even self-destructible.
Pointofmail.com offers various email tracking and security options: disabling copying, forwarding and printing email content, real-time email self-destruction (which deletes email while it is being read), and email delivery and tracking over SSL. These features allow businesses to send sensitive information over email, drastically improving data protection.
Customers monitor when, where and for how long their email is being read and which actions are made after it is read - link clicked, attachment opened or email is forwarded. Senders can fix their mistakes or update email with more relevant information after the email is sent. These features allow both private and business users to be in charge of their email communication.
Pointofmail.com also allows the end user to send interactive emails supported by all email clients and web mail providers. One example is "registered official email" where the recipient manually "signs" to indicate that he received the email by pressing a confirmation button within the email before he can actuality read it. Other implementation of interactive email is "password protected" email where a recipient prompted to enter a password so he or she can read it.
About Pointofmail.com
Since 1999, Pointofmail.com has been an international leader in providing advanced email solutions. Utilizing cutting edge web and email technologies and proprietary patent pending methods, Pointofmail.com provides the ability for home users and small and medium businesses ability to take charge over their email communication. Home users enjoy the peace of mind that their email has been received and read sending while businesses use our Pointofmail.com to leverage their email support and sales channels, improve customer satisfaction, cold calling and sales tracking.
For more information, visit http://www.pointofmail.com.
# # #