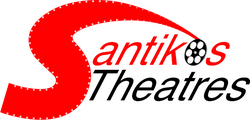 San Antonio, TX (Vocus) June 9, 2010
Santikos Theatres' debuted it's FREE SUMMER MOVIE SERIES last year, and the great response from the local community has prompted Santikos to make this an annual event! Families in all areas of San Antonio can enjoy free movies every Monday-Thursday at 11:00 a.m. for six weeks. This free event is open to the public on a first come, first serve basis and shows are sure to "sell out" based on last year's success. Free tickets are only available at the box office on the morning of the show.
"We are excited to provide parents and caregivers all around San Antonio an opportunity to entertain their kids for free! It's a great way for us to give back to the communities that support us all year long," said Meghan Vincent, Director of Marketing and Communications at Santikos Theatres.
The FREE SUMMER MOVIE SERIES will be showing at these Santikos Theatres: Palladium IMAX, Silverado 16, Mayan Palace, Embassy, Rialto Cinema Bar & Grill, Northwest 14 and in Houston at the Silverado 19 IMAX.
Week 1: June 21-24, "Ice Age 3: Dawn of the Dinosaurs"
Week 2: June 28-July 1, "Aliens in the Attic"
Week 3: July 5-July 8, "Alvin and the Chipmunks 2"
Week 4: July 12- July 15, "Tooth Fairy"
Week 5: July 19- July 22, "Evan Almighty"
Week 6: July 26-July 29, "Coraline"
Based in San Antonio, Santikos Theatres is committed to offering their customers a Total Entertainment Experience. Recent technology upgrades include All Digital Projection, X-PAND 3D and D-BOX motion seats.
*For interviews, please contact Meghan Vincent at (210)496-1300 or Meghan (at) santikos (dot) com. For more information regarding Santikos Theatres, please visit http://www.santikos.com.
###