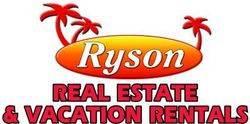 We will be a great team, and hope to sell at least 50 new Bolivar Beach homes this year
Port Bolivar, TX (PRWEB) June 10, 2010
Ryson Real Estate and Vacation Rentals has opened a new office in Crystal Beach Texas. The New office is located near the Crystal Beach water tower and is in a brand new building.
Ryson brings a lot to the Bolivar Peninsula in the way of professional property management and great REALTORS. Ryson currently manages over 100 units in Galveston and has 10 successful agents working the market. Ryson is known for its technology, informative websites, and great marketing. Typically, Ryson's vacation rentals bring in more money per year than its competition. They are currently seeking properties to manage and are receiving many leads a day for summer Crystal beach Texas house rentals. They have also partnered with Rich Cove Construction to help re-build Bolivar.
"We will be a great team, and hope to sell at least 50 new Bolivar Beach homes this year", says Broker/owner Jason Keeling.
Rich Cove Construction has over 20 starts in Bolivar and Galveston and offers a great product and a 60 day turn time!
###