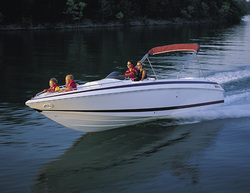 Considering 90 percent of Americans live within a one hour drive of a body of water, boating is an ideal way to spend quality time outdoors with family and friends," says Carl Blackwell, vice president of NMMA and Discover Boating.
Chicago, IL (PRWEB) June 9, 2010
Summer is here, and millions of Americans are looking for ways to escape with loved ones without traveling too far or spending too much. The U.S. recreational boating industry's trade association, the National Marine Manufacturers Association(NMMA), today announced the 2009 top ten boating states based on annual sales. In conjunction, Discover Boating, the industry's non-profit awareness program, has identified affordable, must-visit boating destinations within each state.
"Considering 90 percent of Americans live within a one hour drive of a body of water, boating is an ideal way to spend quality time outdoors with family and friends," says Carl Blackwell, vice president of NMMA and Discover Boating. "To coincide with NMMA's announcement of the top boating states, we've identified must-visit nautical hot spots within each state, illustrating just how easy it can be to get on the water close to home without having to break the bank."
Here are the top ten boating states, ranked in order by total annual expenditures for new powerboats, motors, trailers and accessories in 2009* , including popular on-the-water destinations from Discover Boating:
1. Florida ($1.2 billion)
Hot Spot: Treasure Island – A tropical community that's part of the Tampa Bay area is popular for cruising with the family and sportfishing the infamous Kingfish. While the region currently remains untouched by the recent oil spill in the Gulf of Mexico, residents remain cautiously optimistic. The oil spill has been devastating to areas of the Gulf Coast, however, according to the National Oceanic and Atmospheric Administration (NOAA), 68 percent of the Gulf remains open for fishing at this time, including Treasure Island.
2. Texas ($906 million)
Hot Spot: Lake Austin – In the heart of energetic Austin, Lake Austin offers an ideal setting to cruise, waterski, fish and be entertained with a plethora of restaurants and live music venues to dock at along the shore.
3. California ($417 million)
Hot Spot: Big Bear Lake– Cruising, sailing or waterskiing, Big Bear Lake, just 100 miles northeast of Los Angeles, offers something for every boater. Don't own a boat? Boats and equipment can be rented at one of the many marinas that dot this resort community's 23 miles of coastline.
4. North Carolina ($395 million)
Hot Spot: Lake Norman – Just north of Charlotte, Lake Norman is the largest man-made lake in the Carolinas at 34 miles long, boasting 520 miles of shoreline. This popular boating destination provides year-around water access with boating activities of all types for novices and experienced captains, plus chartered cruises for those just looking to take in the scenery.
5. New York ($381 million)
Hot Spot: Lake Champlain – Spanning 120 miles from Quebec to Whitehall, N.Y., Lake Champlain is renowned for its beautiful scenery and boating opportunities, particularly fishing – named one of the top five bass fishing destinations in the U.S. by FLW Outdoors magazine.
6. Louisiana ($370 million)
Hot Spot: Shreveport – Louisiana's "Other Side" is a sportsman's paradise. Straddling the Red River where watersports are plentiful, and adjacent to Cross Lake, which offers 13.4 miles of scenic cruising, excellent fishing and sailing, there's something for every outdoor enthusiast.
7. Washington ($339 million)
Hot Spot: San Juan Islands – The San Juan Islands, located in the northwest corner of Washington – just 90 minutes north of Seattle, are like no other archipelago, boasting diverse natural beauty with rocky shores, sandy beaches, towering forests and sweeping grasslands. The 700-plus island chain is home to hundreds of anchorages and harbors and is perfect for boating because their waters are protected, tucked away behind Vancouver Island.
8. Delaware ($330 million)
Hot Spot: Rehoboth Beach – Rehoboth Beach has everything needed to enjoy all facets of recreational boating and offers hundreds of slip and boat rentals. Whether interested in cruising, crabbing or clamming, waterskiing or fishing, the area offers a summer getaway perfect for the family.
9. Michigan ($317 million)
Hot Spot: Traverse City – With 181 miles of Lake Michigan shoreline and surrounded by 149 lakes that are 10 acres or larger, Traverse City is a hub for recreational boating, offering a variety of ideal settings for sailing, fishing, waterskiing or Great Lakes cruising.
10. Minnesota ($305 million)
Hot Spot: Detroit Lakes– With more than 400 lakes within a 25-mile radius, Detroit Lakes offers a summer vacation for every type of boater and plenty of family fun. An abundance of public boat launches, marinas and boat rentals, makes it easy to discover boating in Detroit Lakes.
For more boating information and resources, visit discoverboating.com.
*Source: NMMA's 2009 Recreational Boating Statistical Abstract
About Discover Boating
Discover Boating is a national awareness campaign developed by the North American recreational boating industry and managed by the industry's trade group, the National Marine Manufacturers Association. Discover Boating programs focus on improving the boating experience and building interest in recreational boating by providing a resource for Americans to explore the benefits, affordability and accessibility of the boating lifestyle. To find out more, visit discoverboating.com.
###