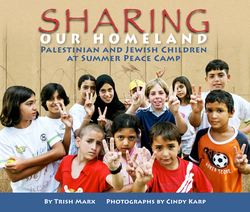 It's a camp that can change perspectives, futures, and perhaps the future of a country.
New York, NY (PRWEB) June 9, 2010
While the most recent clash over the Gaza blockade paints a grim picture, an upcoming children's book argues that peace is still possible—through children. SHARING OUR HOMELAND (48 pp. LEE & LOW BOOKS, 978-1-58430-260-5), which will be released on June 26, follows two children, an Israeli Jewish boy and an Israeli Palestinian girl, as they spend two weeks together at summer camp, proving that if people can be taught to hate, they can also be taught to respect and understand one another.
SHARING OUR HOMELAND, written by Trish Marx and photographed by Cindy Karp, takes readers to Menashe Summer Peace Camp in north-central Israel, where Israeli Palestinian and Israeli Jewish children come together to talk, learn, and play. At the end of each summer, campers walk away with respect for their neighbors and a better understanding of what their homeland means to both sides. "It's a camp that can change perspectives, futures, and perhaps the future of a country," says author Trish Marx.
Although this "from-the-ground-up" approach often does not receive much attention, it presents a hopeful alternative to the bleak prospect of ever-escalating violence in and around Israel. For both children and adults disheartened by the flotilla incident, SHARING OUR HOMELAND provides a much-needed reminder of what is possible with a foundation of mutual respect and a willingness to learn about others.
ABOUT: Author Trish Marx has written many award-winning nonfiction books for children, including several on current events and environmental issues. Cindy Karp is a distinguished photojournalist who has worked around the world as a photographer for TIME and other publications.
SHARING OUR HOMELAND
Palestinian and Jewish Children at Summer Peace Camp
by Trish Marx, photographs by Cindy Karp
LEE & LOW BOOKS • June 2010
Ages 6–11 • 48 pages • $19.95
ISBN: 978-1-58430-260-5
# # #