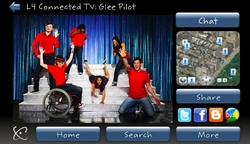 Posting comments to Twitter and interacting with online friends using a voice remote on my Droid phone while watching 'Glee' on my couch is super cool! I could download a song featured on the show and use it to personalize a new channel
Bellevue, WA (PRWEB) June 8, 2010
L4 Systems, a leading provider of high quality mobile and speech recognition applications, announced today their plans to release L4 Connected TV this fall. The initial focus will be support for visual and voice navigation of features on both the connected TV and the consumer's Smartphone that includes real-time social networking, local search, and personal radio.
"Market research on the consumer's digital lifestyle indicates the market for web-connected TVs will reach global shipments nearing 300 million units by 2014," said Tom Freeman, L4 Systems' CEO & President. "Delivering an integrated user experience on both the TV and the Smartphone that leverages speech recognition with features that enhance the consumer's digital lifestyle represents a revenue opportunity to leverage spontaneous downloads of multimedia content, location based advertising, and subscriptions for premium features."
L4 Systems plans to simultaneously release L4 Connected TV and L4 Connected TV for Mobile to TV and Smartphone application stores this fall. Using a WiFi connected TV and the consumer's 3G/4G or WiFi connected Smartphone, the centerpiece of L4 Connected TV will be voice navigation of features along with an open web service hosted in the cloud that aggregates and manages connections to the consumer's social network, local search provider, and music.
Launch features and platforms will support:

Web Services: Facebook, Twitter, Google Buzz, Blogger, Bing, and Apple iTunes or Amazon Music Store.
In Living Room: Yahoo Connected TV on Samsung, Sony, Vizio & LG, Google TV, and TiVo.
On the Go: iPhone, Blackberry, and Android.
Consumers who have used the demo gave the L4 Connected TV app strong accolades. In the words of one user: "Posting comments to Twitter and interacting with online friends using a voice remote on my Droid phone while watching 'Glee' on my couch is super cool! I could download a song featured on the show and use it to personalize a new channel on Internet radio."
"L4 Connected TV will support emerging technology platforms to integrate TV with the web for real-time, interactive visual and voice experiences that connect the consumer to their friends, their music, and their world whether at home or on the go," said Stephen Fishburn, CTO of L4 Systems. "We believe convergence of the web with the living room with the Smartphone in a portal-like app that uses voice navigation and open web services is the next thing!"
L4 Connected TV launch features will include support on the TV and the Smartphone for social networking, local search, and music. Enhancements coming before Christmas 2010 will include support for video downloads, mapping, traffic, weather, and e-mail & text messaging.
# # #