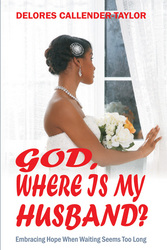 The loneliness, the pain and the anguish that this waiting process entails, may ultimately lead many women to doubt themselves, build walls around them, and even question God.
Blaine, WA (PRWEB) June 10, 2010
Women completely outnumber men in most churches today, an unspoken reality that is creating a silent crisis in the ever-increasing numbers of single and divorced Christian women. There seems to be an epidemic of 'husbandless' cries in the church, as women all across the globe, particularly in the 30 plus age group, experience intense periods of frustration, loneliness, anger, insecurity, impatience and rejection as their biological clocks tick away. The silent cries are louder and more intense, with many women asking God for a way out.
"God, Where is my Husband?" by Delores Callender-Taylor, is an insightful look at this growing reality, which many churches are struggling to cope with. Single women are a major constituent of many churches, a very visible presence. Yet while the church grapples with many other issues, there are few resources to help single Christian women during these often difficult times of waiting.
Delores' book looks at the process of waiting, and at some of the mistakes that single women make while they desperately wait. The key word is desperate because desperation breeds mistakes. The challenge to waiting is that life is passing us by, boredom is stepping in, and we perceive that our aspirations are going down the drain. How does the single Christian woman cope in this challenging period and remain true to her beliefs and faith?
There is a section on the 'Mr. Right' obstacle course, highlighting some of the mistakes women make while they search for that dream husband, plus practical responses to the overwhelming feelings of loneliness and rejection. The book includes the real-life stories of many women, who have gone through the waiting mill, have experienced long periods of loneliness and have picked up valuable life lessons through their experiences.
"God, where is my husband?" offers Hope, yet does so in a way which is both practical and challenging. Delores does not dodge the hard issues of being single in the church, rather using scriptural principles and real-life stories from many women, she sensitively weaves the trials and triumphs together and offers a way out to the single Christian woman, a future full of Hope and Promise from a God who listens to the cries of his daughters.
To cap it off, the book includes questions for personal reflection, to help guide the waiting woman. Interestingly, the book does not just approach the topic from a woman's viewpoint. There is also a reflective section from some men, presenting the viewpoints of christian men who are also in the process of waiting for a wife. All told, this is a very rounded book, and will be extremely useful and encouraging to the single christian woman waiting for a husband after God's heart.
The book can be ordered online at: http://www.godwhereismyhusband.com.
You can contact the author at:
Delores Callender-Taylor
info(at)myhusband-thebook(dot)com
Published by: DaySprings Publishing
http://www.dayspringspublishing.com
About the author:
Delores Callender-Taylor was born in Barbados, and currently lives in British Columbia, Canada with her family. She attends Calvary Worship Centre in New Westminster, BC, and co-leads a home communion group with her husband. She has substantial experience working with special needs, mental health, women, substance abusers, and offender populations. She holds a BA (double majors) in Applied Social Science and Psychology, and a Masters in Education Studies. Delores' previous books include: 'Unleashed Soul', 'I Want it Now' and 'Stop Pretending to Love Me'.
# # #