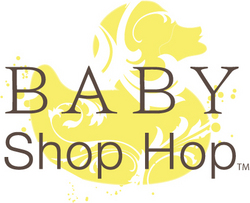 After all, what better way to reach out to consumers and businesses—and bring them together—than by having some shopping fun, raising money, and giving back?
Denver, CO (PRWEB) June 9, 2010
Shop Hop Productions announces the Baby Shop Hop, an online shopathon that provides Baby Industry Businesses a guaranteed way to grow their business while giving back to the community, and gives Shop Hoppers a reason to shop for a cause.
With the economy impacting retailers, Shop Hop Productions found that the Shop Hop event offers a unique way for businesses to capture the purchasing power of Shop Hoppers as they click to discover new companies, products and win prizes. "After all, what better way to reach out to consumers and businesses—and bring them together—than by having some shopping fun, raising money, and giving back?" state the Gals at Shop Hop Productions.
What is an online Shop Hop? It is a distinctive online shopping experience where participating businesses hide the Baby Shop Hop logo, the Yellow Duck, on their website for Shop Hoppers to find. Shop Hoppers then search participating businesses' websites for the Yellow Duck, and are entered to win prizes and receive shopping incentives and discounts. Charitable donations are accrued every time the Shop Hopper finds and clicks on the Yellow Duck or makes a purchase at a participating store.
Get involved to raise money for a favorite child-oriented charity:

Media – Help us get the word out! Retailers need a boost, consumers need some 'free fun' and everyone loves to support a good cause. Shop Hops cover all the bases!
Shop Hoppers – Sign up when visiting http://www.babyshophop.com (it's free!) and submit charity recommendations through the Charity Select Contest that is running through late June. Play along with lots of prize-laden contests currently underway as part of the first Baby Shop Hop Launch Party! During the Baby Shop Hop event, visit participating shops, find the hidden Yellow Duck, click on it to raise money for the chosen charity (a penny per click!). Some online stores will even be donating a portion of their profits to the cause… that's right—you'll be helping your community just by buying fabulous things for yourself and your favorite wee one!
Retailers & Manufacturers – Become a shopathon destination during the Shop Hop and have thousands of Shop Hoppers visit your website. Shop Hop Productions will give 10% of your advertising dollars directly to the charity selected—and if you're interested in doing more, be sure to find out about donating a portion of your Shop Hop sales, which will encourage spending on your site and increase the chances of reaching our $5,000 donation goal! Visit http://www.shophopproductions.com for more information on how to sign up.
About Shop Hop Productions
Shop Hop Productions introduced the shop hop event in 2007 to provide businesses with innovative ways to increase their revenues and grow their customer base. In 2010, the company expanded into the Lifestyle market to provide C.H.I.C. (Creative, High-Energy, Inspirational and Compassionate) Businesses with guaranteed ways to grow their businesses, while providing Shop Hoppers with enjoyable ways to discover new companies and products and, at the same time, giving back to the community.
# # #