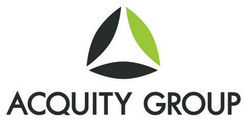 Chicago, IL (PRWEB) June 9, 2010
Acquity Group, a leading services firm that focuses on digital solutions, announced today that it will serve as a bronze sponsor and presenter at the 2010 Hewlett-Packard (HP) Software Universe, held from June 15 to 18 in Washington, D.C.
HP Software Universe is an annual technology conference for IT management, information management, business intelligence and communications and media professionals. Thousands of IT and business leaders from leading companies across a wide spectrum of industries annually attend Software Universe.
Brandon Kniffen, manager at Acquity Group, will present at an hour-long session entitled, "Aggregating application, service and portfolio demand using HP Project and Portfolio Management Center." Christopher Baker, VP of IT Program Management at NBC Universal, will co-present for the June 16 presentation.
Kniffen will detail how portfolio-based demand-management practices can help an organization focus on priority projects, maintain the right mix of applications and provide valuable services to business. He'll also explain how Acquity Group helped NBC Universal use HP Project and Portfolio Management Center to track operational demand, manage project portfolios and build a robust application and scoring process.
2010 marks the fourth consecutive year Acquity Group has been invited to speak at HP Software Universe, with many of its clients -- such as United Airlines, Garmin International and George Washington University -- also leading former presentations at the conference.
This year, HP Software Universe boasts more than 150 educational track sessions, as well as roundtable discussions and the HP Solution Center, where participants can get questions answered by experts.
Acquity Group and NBC Universal's session is scheduled for 3:30 p.m. Wednesday, June 16, in National Harbor 11 of the Gaylord National Resort & Convention Center in Washington, D.C. As a bronze sponsor, Acquity Group will also have an exhibit set up at the HP Solution Showcase.
About Acquity Group
Acquity Group delivers award-winning, tailored solutions to elevate brands and businesses by maximizing the digital channel. Acquity Group's innovative strategy, marketing & design, IT planning, and commerce & content services are the cornerstone of effective digital communication for today's leading brands. Acquity Group is headquartered in Chicago and has offices in Irvine, CA; Los Angeles, CA; Overland Park, KS; Scottsdale, AZ; and Dallas, TX. To define a unique perspective for your business, contact Acquity Group at http://www.acquitygroup.com.
# # #