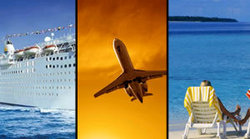 Web Travel Media gets results by helping travel industry partners use modern marketing solutions to connect with today's internet audiences." says company founder Charles Azoulay, CTC.
Miami, FL (PRWEB) June 14, 2010
Web Travel Media's goal is to offer the travel industry a new way to present the highly sought after content about travel in more popular portals like Google, YouTube, and other places where the consumers are seeking information about travel destinations, vacation packages, cruises and more.
The lineup of travel marketing solutions include: Search Engine Marketing (PPC) which is used to drive ticket sales and leads from interested travelers. Web Travel Media will help travel groups setup and manage marketing campaigns to increase sales of travel products and bookings.
Social Media Marketing is designed to give travel companies an online presence through popular social sites like Facebook, Twitter, YouTube, and in the professional networking site - LinkedIn.
One of the more popular services is the Travel Video Marketing solution which allows travel companies to use their supply of promotional DVDs and other videos which are created by popular resorts and cruise ship providers, and display these videos on the independent travel company websites for the benefit of the travel consumer. Also, by creating profiles on the popular video search engine YouTube, the travel companies can display a library of travel videos to show their potential customers more about the travel products the company offers.
Web Travel Media was founded in 2006 by travel professionals and is a provider of modern media and marketing for all-inclusive resort vacation packages, cruise lines, and more. Web Travel Media is a leading source of travel marketing solutions for the travel industries. Services include Search Engine Marketing (PPC – Lead Generation), Social Media, Video Marketing Solutions, Email Marketing, and Website Solutions.
Web Travel Media
Phone 305-654-7553
11921 S. Dixie Highway
Suite 205 Miami, FL 33156
http://www.WebTravelMedia.com
Social(at)WebTravelMedia(dot)com
# # #