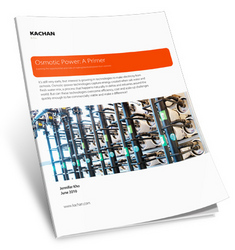 Supporters claim osmotic power could produce half of Europe's total energy demand by 2030
San Francisco, CA (PRWEB) June 9, 2010
Osmotic power, a form of zero emission power that's quietly evolving, is still years from commercial scale, but proponents think it holds the promise to provide thousands of terawatts per year of baseload power—electricity available 24 hours a day, year round.
That's one of the surprising findings from a new report called Osmotic Power: A Primer, which identifies the early leaders and commercial opportunities in osmotic power today for investors, entrepreneurs, utilities, large corporations and service providers.
Osmotic power can be produced from the difference between salt water and fresh water, and can be created at many of the world's deltas and estuaries. Unlike solar and wind power, which are intermittent and require storage to approach dispatchability, osmotic power can be produced 24 hours a day and isn't dependent on large visible arrays of hardware in fields or on skylines.
And that makes it potentially worth three times more than solar and wind power, according to experts interviewed for the report by Kachan & Co., a cleantech research and consulting company.
Leading supporters interviewed claim osmotic power could produce up to 1,600 to 1,700 terawatt-hours per year by 2030, which could equate to meeting about half of Europe's total energy demand, though analysts call for caution.
"Some vendors claim we're only a year or two from commercial plants, but that feels ambitious," said Dallas Kachan, managing partner of Kachan & Co. "Our report finds there are still technical, permitting and regulatory hurdles. Yet the promise of osmotic power is significant, and an industry is beginning to emerge. This is the time to learn about opportunities and stake claims in this new cleantech field."
Some of the advantages of osmotic power identified in the report include its large market potential, its baseload generation capability, reduction in transmission required (because plants can be located close to power demand, unlike solar and wind), and its ability to co-locate and therefore share costs with desalination and water treatment plants. Leading osmotic companies and international patent holders are identified and profiled in the report.
Drawbacks detailed include persistent technical challenges with osmotic membranes, cost elements, inconclusive environmental assessment studies to date and a number of commercial risks including NIMBY concerns, permitting, government support and others.
The concept of harnessing energy from osmosis has fascinated researchers for four decades, but it's only now starting to see commercial interest and scale.
In favor of osmotic power is the fact that it's an innovative, breakthrough technology—exactly what the power industry is seeking in its search for renewables to augment today's fossil-based power.
Osmotic power is one of the few potential baseload sources of energy without significant adverse environmental effects or dangerous waste, the report finds. It harnesses a natural phenomenon, like geothermal, but osmotic power can potentially be created in more places around the world, and much closer to where power is needed.
The report's author is cleantech writer Jennifer Kho, who contributes to The New York Times' Green Inc. blog, Earth2Tech, Renewable Energy World, DailyFinance and PV Magazine. Her work has also appeared in NYTimes.com, BusinessWeek.com, CNN.com, TheStreet.com, The Wall Street Journal, Los Angeles Times and MIT's Technology Review. Jennifer was previously founding editor of Greentech Media. She has reported for Red Herring magazine, the Bay Area News Group and the Los Angeles Times' community newspapers.
Kachan & Co.'s Osmotic Power: A Primer is available from $395 for a single user license at http://www.kachan.com/research/osmotic-power-report
About Kachan & Co.
Kachan & Co. is a cleantech research and advisory firm with offices in San Francisco, Toronto and Vancouver. Its staff have been covering, publishing about and helping propel clean technology since 2006. Details at http://www.kachan.com.
For more information, contact:
Dallas Kachan, Managing Partner, Kachan & Co.
+1-415-390-2080
dallas(at)kachan(dot)com
http://www.kachan.com
# # #