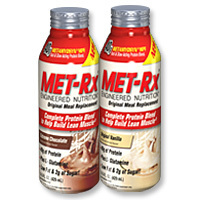 According to Brand Manager Mark Innace, "OMR is a top seller for the brand so it is exciting for us to introduce a convenient new way for our customers to take their favorite product."
Ronkonkoma, NY (PRWEB) June 10, 2010 –
It's been almost two decades since MET-Rx Original Meal Replacement Powder revolutionized the sports nutrition world. The OMR powder has been enhanced throughout the years and remains a staple in most nutrition regimens. Today, MET-Rx has utilized the principles of the formula to engineer the next generation of product, MET-Rx OMR Ready-to-drink. It includes the same benefits as the protein powder, only the way you drink it is different.
The new OMR RTD has 40 grams of Protein and is formulated with the brand's unique METAMYOSYN blend of fast and slow acting proteins*. And similar to the powder formula, it has been infused with L-Glutamine for recovery*. It is a true Meal Replacement with 23 vitamins and minerals and 3 grams of Fiber. It also has only 0.5 grams of Saturated Fat and only 2 grams of Sugar and tastes great.
MET-Rx went beyond what's inside the bottle by packaging this amazing formula in the new Alumi-Tek re-sealable bottles. This bottle allows for a better mouth-feel of the product, improves freshness and taste and is the most recyclable beverage container on the market.
MET-Rx New OMR Ready-to-drinks come in Original Vanilla and Extreme Chocolate flavors and is available for purchase at GNC, Vitamin Shoppe and other fine retail outlets. For more information visit http://www.metrx.com.
About MET-Rx
MET-Rx revolutionized the sports nutrition industry when it introduced its exclusive protein blend called METAMYOSYN. Originally developed by a physician based on metabolic research, METAMYOSYN protein is a highly bio-available fuel that supports muscle and strength.* Today, MET-Rx offers a diverse range of products that promote vigorous health by making advanced nutrition easier, more convenient and more effective than ever before.
*These statements have not been evaluated by the Food and Drug Administration. These products are not intended to diagnose, treat, cure or prevent any disease. Use in conjunction with an intense daily exercise program and a balanced healthy diet including an adequate caloric intake.
###