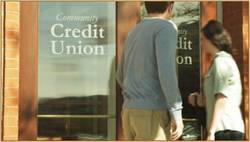 Own Your Money. Join a Credit Union
Lansing, MI (Vocus) June 9, 2010
The Michigan Credit Union League is launching the largest advertising campaign in the history of the state credit union industry that will inform viewers and listeners that, as a credit union member, they truly own their money.
With the tagline, "Own Your Money. Join a Credit Union," the new multi-million dollar TV and radio campaign informs consumers about the Credit Union Difference and the many rewards of credit union membership, such as lower fees, better rates and available credit, while highlighting the distinct differences between credit unions and other financial institutions.
MCUL President/CEO David Adams observed that despite a tough economy, Michigan credit unions remain strong in 2010, including record growth in membership, savings deposits and small business loans, so the current economic climate is a perfect time to launch an all-new appeal to Michigan residents to join the 5,000 Americans a day who are joining a credit union.
"As not-for-profit cooperatives, credit unions have always been owned by their members, not stockholders looking for a profit," Adams said. "Consumers today want more control over their finances, and credit unions are a perfect alternative for people who want to keep their money close to home, working for them and their community. For 85 years, credit unions in Michigan have been in the business of helping people manage their money by investing in them, in Michigan and in America."
Beginning the week of June 7, Michigan residents will see and hear two all-new TV and radio commercials airing statewide, produced by McCann Erickson Worldwide, with offices in Birmingham, Michigan and a client list that includes General Motors and Pure Michigan. The commercials are also available at http://www.lovemycreditunion.org.
"Credit unions across the state joined together to help fund this historic advertising effort, adding up to a combined total of $4 million, including contributions from our CUcorp affiliate," Adams said. "There is growing public awareness and support for credit unions and, with consumers looking for a safe and sound alternative for their finances, this is a perfect time to inform them about the Credit Union Difference."
The Michigan Credit Union League also plans a second wave of commercials to air in the fall designed to build on the momentum and awareness generated from the first campaign.
In addition to informing Michigan consumers about the Credit Union Difference, the commercials will also highlight the Invest in America program that offers preferred pricing on General Motors cars and trucks, Sprint mobile services, DIRECTV and other members-only programs.
About the Michigan Credit Union League
Organized in 1934, the Michigan Credit Union League is a statewide trade association representing Michigan's 335 credit unions. Based in Lansing, the MCUL offers credit unions assistance in the areas of regulatory compliance, legislative advocacy, media advocacy and operational information. For more information, visit http://www.mcul.org, or http://www.lovemycreditunion.org and follow us on Twitter at http://www.twitter.com/MICreditUnions.
About McCann Erickson
McCann Erickson Worldwide is the world's leading global advertising agency network, with operations in more than 130 countries and a client roster that includes pre-eminent global marketers and many of the world's most famous brands. The client roster of McCann's Midwest office includes ALDI, Colonial Williamsburg, GM, Michigan Credit Union League, SIRIUS/XM, Travel Michigan and Karmanos Cancer Center. The agency is a unit of McCann Worldgroup, one of the largest marketing communications companies in the world, which is part of the U.S.-based Interpublic Group of Companies (NYSE: IPG).
# # #