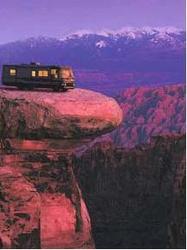 For some RVers, the goal is the destination: getting to that monument, seeing that landmark. For others, RVing is all about the adventure along the way. 31 Strangest Places to Sleep is our tribute to them
Portland, OR (PRWEB) June 9, 2010
For many, the quintessential RV vacation includes flat campgrounds with blue, buzzing mosquito zappers and long days driving from national monument to national monument. But Excel Distributors, a leading purveyor in aftermarket RV mattresses, knows that sometimes just finding a place to sleep is where the adventure lies. In 31 Strangest Places to Sleep, Excel highlights the most creative rest stops, sleep spots, and out-there hotels the world has to offer. It's the one-stop guide for anyone who wants to embark on a different kind of adventure – extreme sleeping.
"For some RVers, the goal is the destination: getting to that monument, seeing that landmark. For others, RVing is all about the adventure along the way. 31 Strangest Places to Sleep is our tribute to them," says Scott Oster, General Manager of Excel Distributors.
Because RVing is a pastime dominated by Americans, most of the unique RV campgrounds in 31 Places are located across the United States, including the Flintstone Campground in Williams, Arizona and Antelope Island in Great Salt Lake, Utah. "RV travel may not be as popular in other parts of the world as it is here, but when it is possible, it can be one of the best ways to explore a new place," says Oster. RV enthusiasts down under will recognize Franz Josef Holiday Park in the shadow of New Zealand's tallest peak, and 31 Places also gives a shout out to roadside camping in Siberia.
In regions of the world where RV camping is less common, Excel showcases one-of-a-kind sleep situations like the oil rig survival pod hotel in The Hague. And of course, there are those who don't need an RV or a hotel to hunker down for a quick nap. Curling up on top of a seesaw in a park is a great place to catch a few z's. Who knew?
"We created 31 Places as something fun to encourage RVers to share their own strange sleep stories. But we hope it also inspires some of those same RVers to slow down, stop rushing from destination to destination, and see what sites pop up along the way," says Oster.
To view 31 Strangest Places to Sleep, click here.
About Excel Distributors:
Excel Distributors is the online purveyor of quality RV mattresses, RV mattress protection pads and RV pillows. Dedicated to customers wishing to improve the overall quality of the RV they currently own, Excel specializes in the RV Aftermarket. Excel is located in Portland, Oregon, and is proud to be the exclusive online distributor for the Quest RV Mattress series. The goal: to provide a seamless purchasing experience for all their customers.
# # #