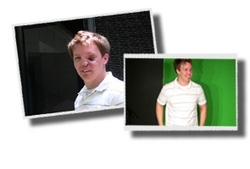 Too often we underestimate the power of a touch, a smile, a kind word, a listening ear, an honest compliment, or the smallest act of caring, all of which have the potential to turn a life around. ~Leo Buscaglia
Fayetteville, AR (PRWEB) June 10, 2010
A new website has been launched to help Darren Sisemore get reconstructive surgery for his face, including a new eye. Go to http://www.darrensisemorefund.com and see Darren's video interview with Mike Masterson, columnist for the Arkansas Gazzette.
The Darren Sisemore Story
http://www.darrensisemorefund.com
As a pre-teen, Darren Sisemore began to have breathing issues.
"Something is wrong with me," he said to his family.
Soon after Darren began having difficulty breathing through his nose, he lost his taste. For several years this continued and at 16, Darren began to see in his own mirror, signs of what would eventually surface as a large tumor growing in his face. By now his teeth had started to shift. They became pitifully irregular, being pushed askew by the tumor which was quietly growing inside his head.
Darren made an appointment with a doctor himself and was "diagnosed" with a sinus infection and prescribed an over-the-counter nasal spray and antibiotics.
"But something is wrong with me"...
Darren knew this and went to a second doctor who scheduled a CT scan and also sent him to an Eye, Ear, Nose and Throat Specialist. This doctor discovered and diagnosed the tumor which would ultimately disfigure Darren.
Next, Darren was referred to a specialist in another city resulting in his first surgery which consisted of removing approximately a three pound tumor from inside his face. It took 10 hours. This event left Darren with his nose folded and flattened to the left part of his face and with a terrible infection.
Darren soon returned to this same doctor who scheduled a second surgery to remove Darren's cheek bone and try to clean out the infection.
After a time, living as a disfigured teenager, Darren tried another doctor. This doctor put a prosthetic cheek bone to replace the cheekbone lost during the tumor removal. This was his third surgery. Though his nose was still not in the right place, being pulled by taut muscles toward his left eye, this new cheek implant did, somewhat, helped his appearance.
After a while, a "bulge" appeared on Darren's face. Turned out, the "screw plate" that had been installed to hold the cheek bone, was infected. In a fourth surgery, the doctor removed the infected metal.
At this point, Darren is still disfigured but now everybody knows "something is wrong".
Darren then consulted two other doctors. These doctors opened Darren's face for the fifth time, took out the prosthetic cheek bone and replaced it with a cheek bone made of a "new kind of porous material". This lasted until Darren's eye lid began to split and doctor grafted (sixth surgery) on a new eye lid but the porous implant was by this time infected.
With the seventh surgery, the doctor took a piece of Darren's "under skull" and fashioned a "more natural looking" cheek bone. At this surgery they also used a piece of artery from another part of his body to help supply blood flow to the cheek bone and the area underneath the left eye which had lost blood flow, caused by the previous surgeries.
Remember, Darren's face has been disfigured since the first surgery.
After a time, Darren's eye became irritated...swelling, itching, red. During the eighth surgery, they grafted skin from his forehead as a 'flap' under his left eye
Darren was then referred to yet another doctor who did a Ninth surgery and took artery and bone from his leg to make yet another cheek bone.
Shortly after this surgery, Darren's eye began to drain from infection and he returned to the doctor, but the doctor refused to say Darren had an infection. Darren went home and arranged to get a culture done him self which said he did in fact have an infection.
By this time, his facial muscles had started to constrict and were pulling his left eye further down on his face.
About one year ago, another doctor re-opened Darren's face and removed the remaining plates and screws, found and treated the infection and in a few hours there was marked improvement.
"Still, something is wrong."
Darren is now twenty six years old and disfigured.
Most recently, still holding out hope, Darren has visited a Dr. in Oklahoma City who referred him to a Dr. in Kansas who couldn't help him because of NO INSURANCE. But now, something wonderful has happened, Darren was referred to a group of specialists in Dallas and in the course of that visit Darren has new hope that somebody can help him. He still doesn't have any insurance and his left eye is ruined and must be removed and replaced with an artificial eye but he now has a group of people called THE D-TEAM who are helping him raise the money to pay for this surgery which will be done in Dallas. The cost will be about $75,000 dollars.
If you would like to help Darren, go to http://www.darrensisemorefund.com.
You can donate there online or any ARVEST bank can accept your much appreciated donation.
On a personal note, Darren Sisemore is a survivor. There are a lot of questions about the procedures he has endured and the questions of 'why' but we can't look back for someone to blame. We will move forward to a new day and a new face for this special young man. Having earned the money and paid off all of what was left of his previous doctor bills, this sensible young man works a fulltime job as an engraver and studies music. He plays drums in a band. And from living the experience you have just read about, Darren has a truck load of built-in integrity. He cares about other people and is thoughtful in everything he does but the most amazing part is...Darren is NOT bitter. He loves his family and friends and just wants a new face. He now has a whole army of people who love him and care about him and together we CAN change the course of Darren's life. You are welcome to join us.
Signed: The D-Team
###