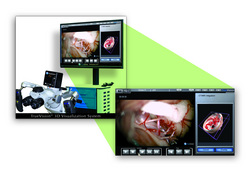 The teaching value of using TrueVision 3D is a quantum leap in our surgical education program.
Santa Barbara, CA (PRWEB) June 10, 2010
The University of Michigan Health System is the first institution in the state of Michigan to adopt TrueVision® as a standard for 3D education in the operating room for its neurosurgery residency program. TrueVision® is a real-time, 3D HD visualization system for microsurgery.
TrueVision® enables surgeons to perform and record surgery in 3D via a heads-up 1080p display instead of looking through the microscope. Surgeons, residents and the operating room staff can view what traditionally only one or two surgeons could observe through the microscope. TrueVision® is ideal for training and education. It is used for streaming video and live procedure broadcasting, proctoring, and surgical education in 3D. The 3D video playback enables viewers to see surgery as if they were performing the surgery themselves through the microscope thus enhancing the educational experience to three dimensions.
"The ability to record procedures in 3D HD gives us the tools to create a growing library of on-demand surgical video which is vital for teaching. We use the video for medical education and at the various medical conferences because over the last year 3D video has evolved as the standard for instructional presentations. We are one of the first programs in the nation to adopt TrueVision and surgical education in 3D," states B. Gregory Thompson, Jr., MD, professor of neurosurgery at University Hospital.
"The time we have to teach residents is not enough, and we need tools like TrueVision 3D to make better use of the time we do have," says Oren Sagher, MD, residency program director for neurosurgery at University Hospital. "The teaching value of TrueVision is a quantum leap in our surgical education inside and outside the OR."
"The 3D medium has been shown to increase test scores 35% for human anatomy over learning in 2D according to the latest studies by Texas Instruments. With the advent of very high quality 3D available there are many advantages that TrueVision brings to the table," said Forrest Fleming, CEO of the Santa Barbara-based TrueVision 3D Surgical. "University of Michigan Health System neurosurgery program has taken a leadership role toward making very high-quality 3D imagery the standard for the medical community and for residency and teaching programs."
About the University of Michigan Health System
Excellence in medical education, patient care and research: That's what defines the University of Michigan Health System. UMHS is an award-winning health care system and premier academic medical center made up of: hospitals, health centers and clinics throughout SE Michigan; University of Michigan Medical School and its faculty group practice; clinical activities of the University of Michigan School of Nursing; and Michigan Health Corp. - the legal entity that allows the Health System to enter into partnerships, affiliations, joint ventures and other business activities. (http://www.med.umich.edu)
About TrueVision 3D Surgical
TrueVision 3D Surgical is the leader in digital 3D visualization for microsurgery. TrueVision has developed and patented an intelligent, real-time 3D surgical visualization platform. The company is developing a suite of 3D guidance applications for microsurgery that is expected to generate greater patient satisfaction. (http://www.truevisionsys.com)
CONTACT:
Robert Reali
TrueVision 3D Surgical
805-963-9700
###