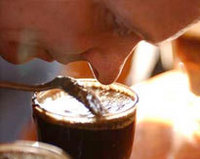 All top ten coffees were outstanding and I will try to secure some for Zoka at the auction
Seattle, WA (PRWEB) June 9, 2010
Hot off the French Press! Zoka Coffee President, Jeff Babcock recently journeyed to Guatemala to judge the eighth annual Guatemala Cup of Excellence competition. The battle of brews entails 21 coffee connoisseurs from around the globe cupping and grading Guatemala's artisan coffee. Only the most amazing coffees are given the esteemed Cup of Excellence (COE) title. The international competition took place from May 24 to May 28, 2010 at AnaCafe in Guatemala with Silvio Leite as the head judge.
The Cup of Excellence title does not come easy. Each coffee is cupped at least five times during the competition and only those coffees that continuously make the top scores move forward. Final winners are awarded the prestigious COE and sold to the highest bidder via an online auction on July 14, 2010.
Over the course of four days, judges whittled down the top 40 coffees to the top 10. On the last day of the event, the judges cupped the Top 10 Guatemala COE coffees, awarding the Pacamara from El Injerto first place. "All top ten coffees were outstanding and I will try to secure some for Zoka at the auction," said Babcock.
This year, the competition was more precarious than in the past, with the volcanic eruption of Pacaya (in proximity to AnaCafe headquarters) on the last day of judging and whirlwind tropical storm Agatha, which blew into Guatemala just days after the event. Babcock and his colleagues made it out safely, but the volcano covered several coffee farms in the area with ash and slowed travel to and from Guatemala. Tropical storm Agatha has had a devastating effect on the area.
"When I got home, I heard of the huge sinkhole, loss of life, and damage in Guatemala. I really hope things improve there soon," Babcock says.
Read more about Babcock's recent journeys on the Zoka Blog: http://www.zokacoffee.com/blog/
Peruse Zoka's Cup of Excellence coffees.
About Zoka Coffee Roaster & Tea Company
Nestled in the heart of coffee country - Seattle, WA - Zoka Coffee Roaster and Tea Company opened in 1996. Zoka is a small-batch coffee roaster with a keen attention to detail – every shot, every roast, every specialty coffee strives for first-day freshness. With three Seattle-area coffee shops and an online retail store, Zoka continues to break new ground in the coffee community.
# # #