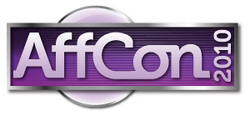 Our day of intensive, paid development sessions with champions of our industry gives affiliates a leg up over their peers." said Daron Babin, co-founder and CEO of WebmasterRadio.FM and AffCon2010
Fort Lauderdale, FL (PRWEB) June 9, 2010
In just a few days, thousands of affiliate and performance marketers will alight on the Denver Convention Center for AffCon 2010 - Denver, a conference and tradeshow series featuring a line-up of thought leaders in the affiliate and search engine marketing sectors. The conference, June 21-22, offers working affiliates free access to educational seminars, technical workshops and networking opportunities. Visit AffCon2010.com for registration information.
After gathering insight from seasoned professionals such as platinum sponsor ClickBank, gold sponsor PerfectAddress.com, silver sponsor Atrinsic Interactive, bronze sponsor SaveologyNetwork.com, Media Whiz, The New York Times, Paulson Management Group, UniqueLeads, Merchant Metrix and Website Magazine, participants may choose to venture deeper into the industry during small-group classroom-style instruction on June 23.
"To be a real pro in this business, you must augment your expertise with professional education," said Daron Babin, co-founder and CEO of WebmasterRadio.FM and AffCon2010. "Our day of intensive, paid development sessions with champions of our industry gives affiliates a leg up over their peers."
Business-Building Training From Affiliate Masterminds
Search Engine Strategies (SES), the world's leading global SEM conference and expo series, is a heritage brand that keeps people ahead of the technology curve. SES joins forces exclusively with AffCon 2010 -
Denver to offer this special training that you can get nowhere else.
Immerse yourself in a day of amazing education with the finest minds in affiliate and performance marketing. The classes are small – no more than ten people per instructor – offering you a chance for meaningful engagement with big industry names. And the cost is minimal compared to the value of the insight you receive: $1,395 for the full day sessions; $795 for half day sessions. Register today at http://affcon2010.com/professionaldevelopment.html
At the head of the classroom, pros who lead successful companies share insider know-how to move your business beyond ordinary to extraordinary.
Tim Ash, president of SiteTurners.com, shows you "Why Your Landing Page Sucks and How to Fix It." Changes in landing page efficiency can dramatically improve the profitability of your online marketing programs. This fast-paced and practical hands-on full-day session provides you with a crash course in landing page optimization. The first portion of the workshop features a presentation on the most common "Seven Deadly Sins of Landing Page Design". The second half engages workshop participants in a live critique and exploration of their own landing pages. Leave with actionable takeaways that you can immediately apply to improve conversion rates.
All participants receive a signed copy of Ash's book Landing Page Optimization: The Definitive Guide To Testing & Tuning For Conversions.
Matthew Bailey, SES Advisory Board & President, Site Logic Marketing, leads his group through "SES Training: Intro to Search Marketing." Learn the basics of search engine marketing by integrating design, navigation and usability into a strategy that increases website rankings. This half-day session is designed to bring beginners quickly up to speed and provide intermediate-level attendees with actionable information they can implement right away.
Attendees will also learn the relationship between link-building and social media marketing and how that can affect your rankings and visibility online. The session helps marketers develop a consistent message that will rank well, appear across multiple media and persuade searchers to click on your listings and take action.
Matthew also leads a half-day training and workshop "SES Training: Marketing Analytics." This workshop is for anyone responsible for a website or for reporting on website activity, success or failure. Site owners, marketers, managers and SEO firms wishing to add analytics to their services will all benefit from this instruction. Learn the concepts that will enable you to gain actionable information and see exactly "what's going on" within your website.
David Szetela is president of ClixMarketing.com and host of WebmasterRadio's PPC Rockstars show. Join him for "PPC Rockstars LIVE! Mastering Google AdWords," a full day of total-immersion Pay-per-Click training. See how the experts consistently achieve double-digit click-through and conversion rates. Learn the latest methods and best practices for building ad campaigns that achieve optimal performance from the very start. You'll learn the art and science of creating powerful text and banner ads while gaining expertise at designing and optimizing landing pages that minimize bounce and drive conversions.
Be among the first to master Google's newest advanced capabilities like SiteLinks, Product Listings, mobile device targeting and ad retargeting. And see how to use free software tools to slash the time it takes to create and optimize campaigns.
Every attendee receives an autographed copy of Szetelas new book, PPC Search Engine Marketing: An Hour a Day. Even better, David will critique your AdWords account – before, during or after the training session – a service for which clients normally pay Clix Marketing $5,000 and more.
Learning Can Be Fun
All work and no play makes for some pretty boring affiliates. So, go get your AffCon on with other top industry professionals at WebmasterRadio.FM's evening AffiliateBash event June 21st. Keep the celebrating going at the SUPERSTAR Affiliate Party on June 22nd, hosted by the Paulson Management Group (PMG), a dynamic affiliate and SEM management company. For adventure-seekers and weekend warriors, AffCon 2010 - Denver offers negotiated discounted specials on a number of Colorado day-tours, whitewater rafting, and more through Vail Resorts.
Visit http://www.AffCon2010.com for information on registration, sponsorship or exhibitor packages. Get involved in the networking site, My.AffCon2010.com, to share information, build your personal network and promote your participation at AffCon.
About AffCon2010 - Denver
AffCon 2010 - Denver bases its conference and tradeshow series on the idea that actionable information, business building and networking opportunities should be freely available to everyone in the affiliate marketing industry, especially to working affiliate marketers. Featuring line-up of thought leaders in the affiliate and search engine marketing sectors, AffCon 2010 - Denver is a unique opportunity to meet and share ideas with the brightest business people in the affiliate marketing industry. AffCon2010 is the only event in the affiliate marketing industry which gives affiliate marketers free access to the movers and shakers in the sector.
About WebmasterRadio.FM
WebmasterRadio.FM lifts the "veiled curtain" of the Internet, bringing the business community together through an interactive radio network. Its listeners are a global group, comprised of everyone from corporate executives and decision makers to small and mid-sized businesses and individual entrepreneurs. WebmasterRadio.FM's stellar line-up of radio programming includes "CoverStory" with Jiyan Wei of PRWeb, WebmasterRadio.FM's official newswire; "Market Edge" with W2/Racepoint Group Chairman Larry Weber; Fired Up! with Gordon Rudow of Bonfire Communications; "SEM Synergy" with Search Engine Marketing Industry Leader Bruce Clay and more. To tune into WebmasterRadio.FM's live content or check out the show lineup, please visit http://www.WebmasterRadio.FM.
# # #