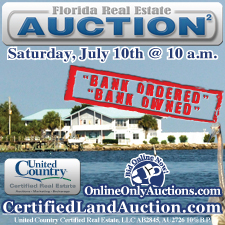 Land and Real Estate Auctions are bringing buyers and sellers together; Certified Real Estate is selling Land at Auction every week.
Tallahassee, Florida (PRWEB) June 9, 2010
A Bank Ordered Auction; the former Beach Front Motel in Cedar Key, Florida will be offered by United Country Certified Real Estate, a Tallahassee Real Estate Auction Company that specializes in Real Estate Auctions. Myers Jackson, CAI, AARE, real estate auctioneer and broker, announced that this real estate auction for the commercial property would be facilitated utilizing the progressive and emerging bidding portal of an Online Auction to be bid simultaneously on Saturday July 10th in a live auction format starting at 10 am, in Cedar Key. Florida Real Estate Auctions have been growing in popularity by providing investors with the convenience of bidding and buying from anywhere in the world with Internet bidding as well as a live format on location. The commercial property offered in this Bank Ordered Real Estate Auction is now open for bidding at OnlineOnlyAuctions.com
This is a 10300 square foot hotel and the best location on the whole Island; turn this waterfront motel into a thriving must see destination and with 29 rooms, your guests will watch the sun rise and set over the Gulf and Cedar Key Island. This property is currently zoned medium density residential and the current use for a commercial hotel can be maintained as long as 51% of the main structure remains intact. Have a pool side party and watch the sun go down or just relax in Florida's # 1 Rural Community or go downtown for a street walk, visit the restaurants. Boat ramps, the pier and fishing are just steps away from the property location on First street. "Over 30 spaces for parking, an office and a managers apartment are all located on the corner overlooking the water," said Myers Jackson, CAI, real estate auctioneer/broker/owner of United Country Certified Real Estate.
Terms and conditions of the real estate auction, as well as detailed commercial property information is available for interested real estate investors at OnlineOnlyAuctions.com. Bidding for this Real Estate Auction is now open and bidders may register early online and bid after receipt of a bidder number. There will be a bidder awareness seminar which will be conducted by real estate auctioneer and broker Myers Jackson on Friday, June 9th at 2 p.m. in Cedar Key. The seminar will educate bidders on the real estate auction process and the auctioneer will answer questions about the terms and conditions. Commercial property experts will discuss the details of the auction real estate for the July 10th Auction event. Information, maps and financing options are available by contacting United Country Certified Real Estate at 800-711-9175 or visiting CertifiedLandAuction.com
About United Country
United Country Real Estate and Auction Services is the largest fully integrated franchise network of conventional real estate and auction real estate professionals in the United States. Based in Kansas City, Mo., the company has been an innovator in real estate marketing since 1925. United Country supports nearly 650 offices across the U.S. and in Costa Rica with a unique, comprehensive marketing program that includes one of the largest portfolios of property marketing web sites (more than 1,000 separate sites), seven proprietary real estate catalogs with a cumulative distribution of 1.5 million, an extensive, current buyer database and national advertising of properties to more than 90 million potential buyer prospects a week. United Country has been recognized by Dun and Bradstreet's AllBusiness.com as the top U.S. real estate franchise, the Wall Street Journal as a top 1 percent franchise and Entrepreneur Magazine's Franchise 500® as a top 100 global franchise. United Country Certified Real Estate: Auctions, Marketing and Brokerage Firm, conducts Live, Simulcast and Online Only Auctions for Florida real estate auctions and Georgia land auctions to include plantations, farms & acreage, recreational land, timberland, hunting land, waterfront & coastal property, luxury homes, commercial, industrial & development land and lots. Interested Bidders may bid online at any time at OnlineOnlyAuctions.com.
# # #