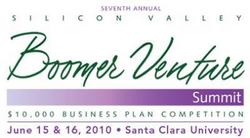 Reaching Boomers, Seniors and Caregivers Through the HR Channel.
Santa Clara, Calif. (PRWEB) June 9, 2010
SeniorCareMarketer.com will be an exhibitor at this year's Silicon Valley Boomer Venture Summit and its president Mark Willaman will be a featured speaker.
The seventh annual summit will take place at Santa Clara University on Tuesday, June 15, and Wednesday, June 16, 2010. The event brings together event industry analysts, the venture capital community, entrepreneurs, and business leaders in the field of aging. The result is a unique forum that explores and shares business ideas, trends and best practices, while also designing products and services that will serve the future Baby Boomer market.
Willaman, president and founder of SeniorCareMarketer.com, will participate on a June 15 panel session titled "Reaching Boomers, Seniors and Caregivers Through the HR Channel." He will be joined by co-panelists Jeff Zimman, co-founder and chairmen of Posit Science, and Jeff Maltz, co-founder and CEO of SilverRide. The session will take place from 3:45-5 p.m.
Willaman has nearly 20 years of experience in the HR and healthcare industries; in 2008 he founded SeniorCareMarketer.com as the first high-tech marketing service designed to help companies that sell to senior care providers.
Key topics to be addressed at the Boomer Summit include where and why venture capitalists are investing heavily in the boomer market and how key analysts are evaluating opportunities. The national boomer marketplace is thriving, with 78 million Baby Boomers in the U.S. (those born between 1946-1964) who possess 90 percent of the country's net worth and account for 78 percent of all financial assets. By the year 2030, there will be 71.5 million Americans age 65 or older—more than double the current number.
The summit will also host best-selling author Gail Sheehy, who launched her latest book this month, Passages in Caregiving: Turning Chaos into Confidence. As the acclaimed author of 15 books, Sheehy has changed the way millions of people around the world look at the stages of their lives. Featured sessions and boot camps will also include discussions on the influence of the female boomer consumer, how to reach boomers through print, broadcast and social media, how to finance a start-up company and other topics.
The summit will culminate with the Boomer Business Plan Competition, where finalists will present business ideas for tapping into the burgeoning boomer marketplace to a panel of judges comprised of leading venture capitalists and experts in the field of aging. Finalists are eligible to receive a $10,000 Grand Prize and $1,000 Best Elevator Pitch Prize.
For more information and to register online, visit http://www.scuboomerventure.com/. The summit is being produced by Santa Clara University and Mary Furlong & Associates.
About SeniorCareMarketer.com
A direct response to the growing senior care industry, SeniorCareMarketer.com combines databases of marketing and public relations opportunities with press release distribution, campaign management, SEO and social networking tools. The service offers the same marketing benefits that its highly successful sister product, HRmarketer.com, offers the human resource marketplace —the ability to generate publicity, website traffic, sales leads and improved search engine rankings. For more information, visit http://www.SeniorCareMarketer.com.
Media contacts:
Mark Willaman, founder & president
831-685-9700
mwillaman(a)hrmarketer.com
Elrond Lawrence, media relations
831-632-2183
elawrence(a)fishervista.com
This press release was distributed through PRWeb by Human Resources Marketer (SeniorCare Marketer: http://www.seniorcaremarketer.com) on behalf of the company listed above.
###