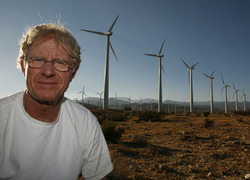 "I encourage everyone to slow down and simplify. Start with what you can afford and work your way up the ladder. That's the way I did it starting back in 1970." - Ed Begley, Jr.
Saratoga Springs, NY (PRWEB) June 10, 2010
Ed Begley, Jr. has been living a sustainable lifestyle for over 40 years, and has a lot to say about how we can become a more sustainable culture. He makes toast with a bicycle-powered toaster, bought his first electric car in 1970, spends $300-$600 a year in electricity, eats a vegetarian diet and thinks people are obsessed with lawns.
In an exclusive two-part interview with the Low Density Lifestyle website, Begley, who first shot to fame with his starring role on the TV show St. Elsewhere, and has since been featured in such TV shows as Arrested Development and the West Wing, and in movies such as A Mighty Wind and Pineapple Express, speaks candidly about the environment, energy, the Gulf oil spill, and former Vice-President Dick Cheney's energy policy.
Ed Begley, Jr., whose most recent book is called Ed Begley, Jr.'s Guide to Sustainable Living, currently stars in the reality TV show Living with Ed on the Planet Green channel. He counters the criticism that only those with a lot of money can afford to live a sustainable lifestyle by stating that there are a lot of things that can be done that are inexpensive - changing the lighting to energy efficient lighting, thermostat programming, weather stripping, recycling, biking, public transit, energy star devices, unplugging phantom power, etc.
He practices what he preaches, even with his transportation choices: his first mode of transportation is walking, followed by biking, public transportation, and then an electric car, followed by a hybrid car.
In the interview, Begley even delves into politics, saying that the Obama administration is not doing enough with their environmental and energy policies, and that Dick Cheney didn't know what he was talking about, in regards to the energy policy he carved out.
Dr. Michael Wayne, who runs the the Low Density Lifestyle website, was pleased that Begley was willing to give the interview, as he says that Begley's philosophy gibes perfectly with the Low Density Lifestyle website philosophy.
"We're interested in helping people develop healthier lifestyles," Dr. Wayne says, "and living lighter on the earth and helping the environment by living a more sustainable lifestyle is in complete synch with the Low Density Lifestyle philosophy."
And what is a Low Density Lifestyle? "It's living in a more relaxed, less stressed, more calm and more centered way," says Michael Wayne. "When you live this way, you feel more in the flow, and you will be healthier, happier, and more fulfilled."
And how does a person live this way? "It's easy," says Michael Wayne, "and can be done right now and right here, just by following the top ten ways to start living a Low Density Lifestyle now."
###