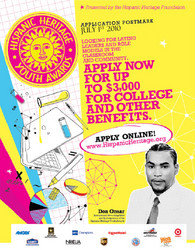 It is also important to be able to rely on the support and participation of public personalities such as Don Omar, who is able to attract wide participation. As an agent of change and role model for achievement, Don Omar offers inspiration and enthusiasm to our Latino youth to continue shaping a brilliant future for our community
Washington, DC (Vocus) June 10, 2010
Puerto Rican singer Don Omar, widely-recognized as among the most recognized Reggaetón singers, is the spokesman for the 2010 Hispanic Heritage Youth Awards, which are presented annually by the Washington-based Hispanic Heritage Foundation (HH).
In his role as spokesperson Don Omar is calling on Latino high school seniors to apply for the leadership grants offered by HH on http://www.HispanicHeritage.org. The students who compete for the prestigious Youth Awards are selected for their accomplishments in the classroom and community and focus in various categories including: Math & Engineering, Education, Business, Science, Community Service and others (TBD). Three students will be selected in each of the categories in each of the following 10 markets: Dallas, Houston, San Antonio, Los Angeles, San Jose/San Francisco-Bay Area, Phoenix, Chicago, Miami, Washington, DC, and New York/Philadelphia/New Jersey.
"I am calling on Latino youth to step up and be role models and leaders to help move the Latino community forward," said Don Omar. "The Hispanic Heritage Foundation is focused on not simply recognizing young leaders but putting them in a position from which to lead and positively affect others in the future. Education, community service and entering the workforce in a strong position are essential for the future of America, not just the Latino community. We're counting on our youth and I believe we're in good hands."
The applications for the 2010 Youth Awards are now available on the following Web site: http://www.hispanicheritage.org. The applications must the postmarked no later than July 1, 2010.
HHF President and CEO Jose Antonio Tijerino said, "As the fastest growing segment of the population and with seven out of 10 new jobs created over the next 10 years going to Latinos, it is critical we invest in Latino youth and prepare them to make an impact in the education, community and workforce. We are grateful to Don Omar for being a role model and inspiring our youth in such a positive way."
"It is also important to be able to rely on the support and participation of public personalities such as Don Omar, who is able to attract wide participation. As an agent of change and role model for achievement, Don Omar offers inspiration and enthusiasm to our Latino youth to continue shaping a brilliant future for our community," said HHF Vice President María-Esmeralda Paguaga, when thanking on Don Omar for his role in this effort.
HHF will also hold its annual star-studded Hispanic Heritage Awards, which will feature Youth Awardees on September 29, 2010 at the Capitol Visitors' Center Congressional Auditorium on Capitol Hill in Washington, DC. The Hispanic Heritage Foundation was created in 1988 by the White House to commemorate the launch of Hispanic Heritage Month, the 30-day period starting on September 15 and ending on October 15. For more information, please visit http://www.HispanicHertitage.org.
Contact:
Maria Esmeralda Paguaga, 202.861.9797
MariaEsmeralda(at)HispanicHeritage(dot)org
# # #