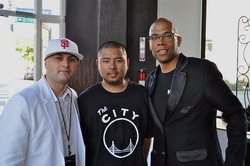 "This conference is an opportunity for the Bay to be heard across the world", Mario Flores, BAPC founder.
San Francisco, CA (PRWEB) June 10, 2010
Good Felaz Entertainment and Management is proud to present the 2nd annual Bay Area Producers Conference on Saturday July 24, 2010. This one day workshop will take place from 12 pm to 9 pm at Fort Mason in San Francisco, CA. The conference will serve as a venue for those that are looking to break into the music industry bringing in executive producers from major record labels around the country to speak on a panel. A media mixer will be held on Saturday, June 19, 2010 at the SAE Institute from 6:30 pm to 9 pm. The SAE is located at 450 Bryant Street, Suite 100 in San Francisco.
This year's conference brings special guest Taj "Mahal" Stansberry, discussing what it takes to become a top video music director. He is a recognized music video and short film director in the hip-hop and R&B industry and has worked with artists such as, Ne-Yo, Nas, Rihanna, and LL Cool J, to name a few.
"We are excited to be holding the conference at Fort Mason, we had a great turn out last year," said co-founder and CEO Rio, "we have created this event for people to learn, network and succeed in the music industry."
Rio adds, "Our workshops will provide great panelists including celebrity producers and artists, information about new production gear, technology, promotion, A&R, publishing, marketing, management and representation. This year we're also adding online distribution, music video directors and marketing."
Also set to attend are major record executives from Atlantic Records, Def Jam, and Columbia Records all set to provide advice on how to succeed in the music industry. Dre Mckenzie, of G-Unit records, will return, bringing his expertise on how to navigate in the music industry.
"Our mission is to make sure that we teach music artists and entrepreneurs how to establish themselves in the music industry," said Big Chain, who is also co-founder of BAPC, "we hope to be able to teach others how to think like successful music industry leaders."
This year's conference will feature an MC battle contest with a grand prize of a $1,000 gift card to Guitar Center. Attendees can also pay to get their music heard by A&R executives.
For more information, contact Creative Edge Public Relations at 415-829-3286 or at palmertheodore (at) gmail (dot) com. Please visit BAPC at http://www.bayareaproducersconference.com.
###