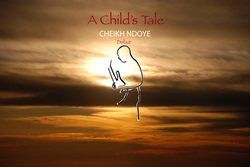 'It's a great CD and an honor to have played trumpet on several of the songs". ~ Randy Brecker
Kingston, MD (PRWEB) June 10, 2010
Romero Wyatt is not a newcomer to hearing the foundations of sounds. As a percussionist he is one who shapes and molds an artist's brilliance into something new with his contemporary accents. New to Romero's producing credits is world-class bassist Cheikh Ndoye who hails from Senegal, West Africa.
"This new sound is spearheaded as world jazz meets fusion. 'A Child's Tale' CD brings out many grounded energies and a heavenly flow like water. My input to this project was more about connecting things and making sure the flow was harmonious. It was a blessing to produce, co-arrange, and perform with such a talented young bassist and blending musical colors together with some of the worlds greatest musicians "says Romero Wyatt.
Coupled with the brilliant contributions of featured luminaries as Russell Ferrante, Dean Brown, Eric Marienthal, Randy Brecker, Karen Briggs, Dave Weckl, and Mike Miller who have stellar careers in their own right. In addition, a cast of musicians, Jimi MBaye, Ashley Maher, Eli Stapes, Scott Hodges, Brad Booth, Adrian Green, Sunanda Kishore, Monica Ssali, Kyle Whelan and Yacouba Sissoko all of whom bring a wealth of musical richness to the energy of Cheikh's music.
"I enjoyed being involved in this high quality music production, your music sounds great."
~Dave Weckl.
'It's a great CD and an honor to have played trumpet on several of the songs." ~ Randy Brecker
Wyatt remembers Miles Davis saying in an interview, "It's great to listen to those newcomers studying my style of musical form, it is a great thing, that was all in my time but this is your time, so create a new style that suits your own authentic expression."
Romero chose The Jazz Network Worldwide social network as a place to launch this project because he wanted to put it in front of an audience that has a seasoned palate where traditional jazz bridges the new innovative thinkers. "Cheikh Ndoye is an innovator on the bass with familiar flavors of Jaco Pastorius nuances. His musical personality is interspersed with accents of tonal slips and slides that compliment the musical conversations", says Jaijai Jackson, daughter of jazz-legend bassist "Chubby" Jackson and creator of The Jazz Network Worldwide.
Cheikh Ndoye's debut CD "A Child's Tale" is being featured on The Jazz Network Worldwide known as "A Great Place To Hang" the week of June 10th-16th at http://www.thejazznetworkworldwide.com and can be purchased at http://www.itunes.com and http://www.CDBaby.com
###