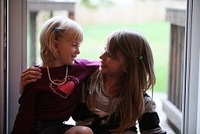 "This song is a story about supporting friends through a struggle, and that's exactly what I want to do for Taylor Love and her struggle with childhood cancer."
Atlanta, Georgia (PRWEB) June 9, 2010
In celebration of National Cancer Survivors Day and the battle facing her young friend Taylor Love, 13-year-old singer Abby Miller releases her new single, "If I Can Hold Your Hand" exclusively on Artzuno.com. The single is available for download on the website for $1.99, with all proceeds going to the Band of Parents Charity to benefit childhood cancer research. The song "If I Can Hold Your Hand" was written by one of the Founding Directors of Artzuno.com, Andy Grube and is performed by Abby Miller.
"I met Taylor when I was 10 years old and the battle that she is facing against her own cancer inspired me to use my gifts and talents to help her and other children like her," said Abby Miller. "If I can do something I love to do – like singing – and use it to help Taylor, who is only four years old, and other children battling this terrible disease, I want to do as much as I can. This song is a story about supporting friends through a struggle, and that's exactly what I want to do for Taylor Love and her struggle with childhood cancer."
There is a great need for funding to support childhood cancer research, as over twenty children are diagnosed with a form of cancer every day. Abby's hope is that her song, which has already been downloaded in 26 countries around the world, will help spread the word about this need for funding and will inspire people to get involved in the lives of children who are fighting for their lives. Childhood cancer is the number one disease killer of children in the United States, and with specific research needed for childhood cancer, Artzuno.com is providing a way to download music and help find a cure.
"I just hope that people enjoy the song and that it can show them what a great need there is out there for childhood cancer research. I'm picking up my guitar and playing songs for my friend Taylor, and other folks can do something just as simple by listening to her story while donating to help find a cure," said Miller.
To download Abby Miller's song and make a donation for childhood cancer research, visit http://www.artzuno.com. For additional information or to learn about four year old Taylor Love's amazing story, visit http://www.taylorlove.org.
About Artzuno.com
Artzuno.com is a free website that offers artists of all genres and mediums as well as consumers a unique opportunity to interact while doing business, exposure for new and emerging talents and a hub for arts and entertainment news and events.
The website showcases the work of artists, fans and industry professionals from the various categories of art (music, art, dance, film/theatre & literature) which are available for viewing or sampling and purchase.
# # #