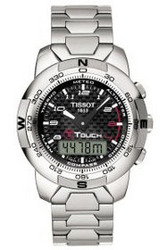 Do you want a new Tissot watch? Then Tissot have launched an app for that.
(PRWEB) June 10, 2010
For those shoppers who have been looking for a new watch for some time now and are starting to tire of the constant sales patter from the staff of every jewelery store they go into to try on a watch. Now Tissot, the Swiss watchmaker, have a web application for that.
Their idea allows any web user with a web cam to see a Tissot watch superimposed on their wrist using augmented reality. It allows users a more personal interactive shopping experience without having to traipse around crowded high streets. It works incredibly well and can be found at http://www.tissot.ch/reality/
Tissot are leaders in the watch market with new additions, for example, to the T-Touch range which include the Sailing Touch. This new 3D augmented reality app shows that the innovation of the Tissot watch brand does not stop once the watches are made. Tissot hope that the new application will aid the shopping experience of the online customer and hope it will enhance the Tissot name as a consumer orientated brand.
The application is easy to use and all that is need is a webcam and an internet connection. The program can be downloaded from the Tissot website and within 5 minutes you can have the program stored on the users computer. From this point onwards shoppers can start trying on any of the 28 watch styles which are currently part of the program. However, trying on a Tissot watch is not all this new application has to offer online shoppers. Those interested in how watches such as the T-Touch Expert work, before they even contemplate paying over £500 for a watch, then this new augmented reality by Tissot will allow them to virtually try out the functionality of a T-Touch watch without having to enter a jewellery shop or buy the watch online.
Tissot watches can only be bought through authorised UK distributers like HotWatches.co.uk so users will still need to shop around for the best price once they have decided on the Tissot watch they want.
# # #