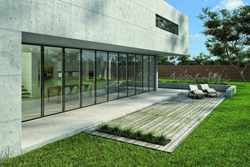 "All the products that were awarded Red Dot Design Awards had to amaze an international jury of industry experts. These products are a head above their competition," said design expert Professor Dr. Peter Zec, initiator of the Red Dot Design Award.
Mill Valley, CA (PRWEB) June 10, 2010
NanaWall Systems, the leader in large opening glass walls, announces the launch of its newest product: NanaWall® SL82 Structurally Glazed Folding Glass System. The transparent all-glass design and performance features have won product design awards in two of the world's most famous competitions: The Red Dot and iF Design Awards. Winners of the "red dot" seal (given for exceptional design) and the international iF award are chosen by a highly renowned jury of industry experts and thought leaders in design and architecture.
The NanaWall Structurally Glazed SL82's most outstanding feature is the beautiful transparent quality of its all-glass look that can fold easily to create large exterior openings. The aesthetics of smooth, uninterrupted glass panels in front of aluminium profiles present a stunning façade for buildings.
The Structurally Glazed SL82 NanaWall works for commercial and residential project for openings up to 39 feet wide. The all-glass look, thermally insulated folding glass door can be designed with a flush sill and is available with triple glazing (with U-values as low as .29). Each individual panel size can be a maximum of 3 feet 3 inches wide by 8 feet 2 inches high.
Features Include:

Structurally glazed folding system
All glass aesthetics—structurally glazed operable wall that blends perfectly with the all-glass aesthetic of a structurally glazed building
Slim line profile surrounding the glass panes for ultra clean lines
Single Track with bottom supported rollers
Concealed integrated multi-point locking system, and inside and outside door handle with catch bolt, lock and profile cylinder ensure high security.
Seals running in 3 different levels provide effective protection from wind pressure and driving rain.
As low as .29 U-Value and 12 PSF water tested
Adjustable hinges and rollers for long-term ease of operation
Individual 3'-3" x 8'-2" max panel size
Max of twelve panels with a total opening 39'
Flush sill and high-performance sill available
Up to 1 ½" glazing allows for triple glazing
In-swing operation only
"NanaWall Systems and our partner Solarlux continue to innovate to provide the best design for architects, builders and developers who are looking for beauty, energy efficiency and universal design," said Ebrahim Nana, president of NanaWall Systems. "NanaWall is the only manufacturer in North America to offer an all-glass look in a structurally glazed thermally broken folding system."
"All the products that were awarded Red Dot Design Awards had to amaze an international jury of industry experts. These products are a head above their competition thanks to their excellent design and innovative approaches and were thus able to prove their quality in one of the world's most fiercely contested design competitions," said design expert Professor Dr. Peter Zec, initiator of the Red Dot Design Award. This year, designers and companies from 57 countries submitted 4,252 products for the Red Dot Award: Product Design.
The Structurally Glazed SL82 is on display as the sophisticated façade solution at the Designstadt Zollverein site in Essen, Germany as one of five award-winning designs in the "openOffice" project, which recognizes the best in modern, flexible office buildings for creative companies and new entrepreneurs.
The SL82 is also part of the "Design on Stage Exhibition – winners of the Red Dot award: product design 2010" in the Red Dot design museum at the Zollverein Coal Mine World Heritage Site in Essen from July 6 to August 1, 2010 and after that for at least one year as part of the permanent exhibition at the Red Dot Design Museum.
About NanaWall Systems
NanaWall Systems is the exclusive North American partner of Solarlux, Germany, the world leader in operable glass wall technology. NanaWall Systems' opening glass walls provide flexible solutions to large architectural openings, from 8 feet to 320 feet and are used in houses, condominiums, restaurants, stadiums, schools and more. Nine of the NanaWall systems have been rated, certified and labeled in accordance with National Fenestration Rating Council 100/200. With certain glass options, Energy Star U value and SHGC requirements for certain climate zones can be met. The NanaWall is unrivaled in the industry for exceeding standards for air infiltration, water penetration, structural performance and forced entry. The NanaWall SL72 and SL73 aluminum folding system are Miami-Dade County approved and can be used in hurricane areas. NanaWall Systems is a member of the U.S. Green Building Association. The aluminum-framed NanaWall uses recyclable aluminum with non-toxic powder-coated finishes. The wood-framed NanaWall can be FSC certified upon request and uses water-based finishes. For more information about the NanaWall, visit the award-winning Web site and photo gallery at http://www.nanawall.com.
###