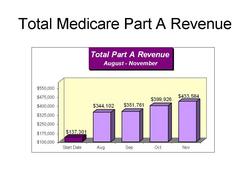 We have used Harmony for the past two years and we have seen a dramatic increase in our Medicare Part A revenue and rate. They have also been a valuable resource for our staff with coding and education.
Topsfield, MA (PRWEB) June 10, 2010
The Nursing Home industry is facing numerous challenges with Medicare and Medicaid cuts. On top of the cuts facilities are now seeing an increase in Medicare Audits and RAC Audits to re-coup dollars for the shrinking Medicare budget. So not only are facilities seeing a decrease in revenue but also faced with fighting to keep the money they received for already treating patients. This further takes more staff time and money even if a facility does win their Medicare appeal.
Another obstacle facilities are facing is the new 5 star rating system which was designed to help consumers compare nursing homes to get a sense of the quality care and services a Nursing Home provides. Again this is another added cost to Nursing homes to prepare for the 5 Star Rating. The intentions of 5 Star Rating is good however there are flaws that could cause a good Nursing Home to have a low 5 Star Rating. One example is staffing and the Nursing Home has to report their staffing for the current 2 week period. The facility could have bad luck and have to report their staffing during a holiday period such as Christmas and New Years which we have had happen to clients.
On top of these obstacles Nursing Homes are now facing a change in Medicare Reimbursement with the implementation of MDS 3.0 and RUG's IV. Facilities must learn all the changes, how they effect their facilities and then implement training for staff as well as systems and strategies for MDS 3.0 and RUG's IV. Without fully understanding these changes will further cause a decrease in revenue, more Medicare denials and negatively effect patient care. This is not something staff members can learn in a one day training seminar and needs constant oversight and education for the staff.
These cuts and extra costs are causing facilities to cut staff, delay purchasing new equipment and not update their facilities. The end result is a lack of patient care, it costs the patient more money and LTC losing some of their best clinicians. Enter Harmony Healthcare International to help facilities offset these costs, train Nursing Home staff on Medicare eligibility, MDS 3.0 and RUG's, increase facilities 5 Star Rating and increase patient care. Harmony Healthcare is a Long Term Care Consulting firm specializing in Reimbursement and Compliance. Harmony educates, trains and advises to ensure accurate and optimal reimbursement while maintaining a compliance landscape and focusing on patient care. Harmony also just launched their new division called Pro Source which helps facilities find top notch clinicians for their facility.There is hope for the future of Long Term Care with Harmony Healthcare International.
For more information go to: http://blog.harmony-healthcare.com/
###