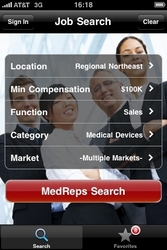 We place a great deal of weight on the opinions of our users, and we think they will be pleased with this new version.
Alpharetta, GA (PRWEB) June 11, 2010
For more than a decade, MedReps.com has been the go-to site for those seeking medical sales jobs and pharmaceutical sales jobs. But in a competitive market like medical sales, job seekers can't limit their job search to time spent at the computer. They need the ability to search for jobs anytime and anywhere, and the MedReps.com iPhone app enables them to do just that.
The original version of the MedReps.com iPhone app allows job seekers to easily search for medical sales jobs on the industry's leading job site using keywords, location, compensation, category and market. Search results present the most recent job postings first. MedReps.com members can save jobs as favorites, or email jobs directly to a friend or to themselves. If the job posting has a contact email address, members can express their interest immediately using the "Apply via email" feature.
With more than 2,500 downloads, the first version of the app has certainly been a success, but Karyn Mullins, VP and General Manager of MedReps.com's parent company, Healthcare Job Boards, knew they could do even better. "We conducted a survey of the first 500 users and received some great feedback," says Mullins. "We place a great deal of weight on the opinions of our users, and we think they will be pleased with this new version."
While only minor tweaks were made in this first update, MedReps.com members will immediately see the benefits. For one, members no longer have to login to the app every time they use it. Login information is saved for 30 days, and the most recent search parameters are also saved between uses. Additionally, the app now syncs member accounts with the site, so jobs marked as "Favorites" on the app will also appear in the "My Jobs" section of the site. Members can add and delete jobs from both the site and the app, and both folders will be updated.
MedReps.com continues to be the leading internet service specializing in medical and pharmaceutical sales, marketing, and management careers. Members have access to nearly 7,000 jobs and are able to apply directly to the recruiters and hiring managers who post them. For more information on the leading site for pharmaceutical and medical sales, marketing, and management careers please visit MedReps.com.
Download the updated MedReps.com iPhone app now or use your iPhone and search "medreps" in the App store.
MedReps.com is owned and operated by Healthcare Job Boards, the leading provider of niche career sites in the healthcare market. The HJB portfolio of premier job boards includes niche sites for physician jobs, therapy jobs, nursing jobs, and medical sales jobs. For more information call 866.619.1630
# # #