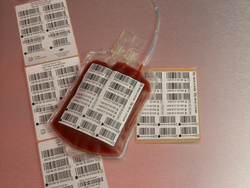 Minneapolis, MN (PRWEB) June 10, 2010
Symbology, Inc. has chosen 3M as a preferred supplier of materials for blood bag DIN sets and secondary barcode labels. And for their part, 3M has named Symbology a Choice Converter.
The blood label industry is exacting and regulation laden. This is necessary in order to maintain patient and worker safety as well as to accurately track individual items. The partnership of 3M's materials to meet Red Cross and FDA guidelines, and Symbology's ISO certified print processes will provide users with safe and mistake-free labels.
Added benefits include:

Lower cost
Environmentally friendly
Facestock options
Easy-to-work with adhesive
Check Symbology's web site for additional blood label information, or contact the Sales Department - sales@symbology.com 800.328.2612 x 1085 (763.315.8085).
About Us:
Symbology, Inc., established in 1980, is a leading provider of digital barcode files including the DataBar coupon code. In addition, they are a specialty manufacturer of sequentially numbered barcode labels, featuring custom and standardized industry-specific label products for library, blood, tire, medical and material handling. An ISO 9001:2008 certified company; they also offer a complete line of inspection/verification equipment. Customers around the globe choose Symbology for high quality products, technological expertise, and unsurpassed customer service. Offices are located in Maple Grove, Minnesota. Web address: http://www.symbology.com.
Inquiries may be directed to Judy Dodson at Symbology, Incorporated, 7351 Kirkwood Lane North, Suite 126, Maple Grove, MN, 55369. Phone 763.315.8056, or jdodson(at)symbology(dot)com.
###