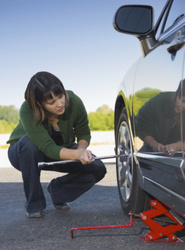 Tires can experience extreme heat build-up that often leads to blowouts in tires that are poorly maintained.
Scottsdale, AZ (PRWEB) June 9, 2010
Discount Tire and America's Tire, the world's largest tire and wheel retailer, is providing free tire safety inspections this summer at its more than 750 stores throughout the U.S. to help motorists avoid potential tire problems during summer driving season. Inspections are performed by a tire technician in just a few minutes. Store locations can be found at http://www.Tires.com.
As summer approaches, the weather begins to warm and motorists across the nation contend with shifting road conditions. Discount Tire reminds motorists to prepare for these changes before they occur in their region of the country.
"Road conditions change with the seasons so it's important to know if your tires are ready for the road ahead or if they need to be replaced," said Mark Ballard, vice president for Discount Tire. "The first step is to inspect tires for signs of damage, excessive tread wear and proper tire inflation pressure."
Maintaining proper tire pressure is one of the most critical things motorists can do to improve their road safety and maximize tire performance. Improperly inflated tires lead to decreased steering and braking control as well as excessive tire wear and fuel consumption.
Under-inflated tires are the leading cause of tire blowouts, according to the Rubber Manufacturers Association. Each year, there are more than 650 fatalities due to car accidents involving under-inflated tires. The U.S. Department of Energy also reports that more than 1.2 billion gallons of fuel are wasted each year by U.S. motorists driving on under-inflated tires.
"Be sure to use tires that are designed for the road and weather conditions that you will be driving in," said Ballard. "Tires can experience extreme heat build-up that often leads to blowouts in tires that are poorly maintained. Don't hesitate to see a tire professional to make sure your tires are in good shape so you can avoid problems on the road."
Tire Tips for Safe Driving and Saving Money:
1. Don't Wait to Inflate -- Low tire pressure decreases fuel economy. The specific inflation pressure number can be found on the vehicle placard located on the driver's side doorpost, glove box door, fuel door or in the owner's manual. For accurate pressure use a tire pressure gauge and check tires when cool. Don't forget the spare.
2. Lighten Your Load -- Overloading decreases fuel economy due to increased wind drag and cargo weight. Handling, control and braking are also negatively affected.
3. Rotate Before Rollin' -- Regular rotation helps achieve uniform tire wear and improve road performance. Tires rotated every 6,000 to 8,000 miles have longer life and help maximize your tire investment. It makes sense to get tires inspected when you rotate.
4. Get It Straight -- Proper tire alignment provides safe, predictable vehicle control, as well as a ride that is smooth, comfortable and free of pulling or vibration. Proper alignment helps tires wear evenly and last longer.
5. Bald Isn't Beautiful -- Lack of tread affects the tire's ability to grip the road. Make sure tires don't have uneven wear, high or low areas or unusually smooth areas that can increase the risk of road accidents.
6. Swap Out Winter Tires -- If you drive on winter season tires, swap them out for all-season tires in spring or summer. All-season tires will provide improved wet traction, extended mileage and durability especially in warmer climate zones.
7. Rear Mount New Tires – Make sure new tires are mounted on the rear of the vehicle if replacing two instead of four. New tires have deeper treads to grip wet roads and offer greater hydroplaning resistance so you can maintain control.
ABOUT DISCOUNT TIRE AND AMERICA'S TIRE
Discount Tire, based in Scottsdale, Arizona, is the world's largest tire and wheel retailer. Also known as America's Tire in Oregon and some parts of California, Discount Tire currently operates more than 765 stores across the country. This year marks the 50th anniversary of Discount Tire serving customers as their trusted tire retailer in local markets across the U.S. For more information about Discount Tire and America's Tire, or for career opportunities, visit http://www.Tires.com.
###