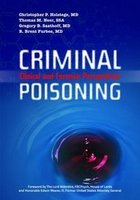 Maynard, MA (Vocus) June 10, 2010
It is estimated that fewer than five percent of homicides are carried out using poison as the murder weapon, however, recent U.S. data has demonstrated that the number of homicidal poisoning are increasing. The emergence of the Internet has allowed a wealth of information on poisoning to become more accessible. That free flow of information coupled with the emergence of a host of new chemicals, has made the job of diagnosing and prosecuting criminal poisonings more difficult. Different toxins attack the human body in various ways, some are obvious but far more are subtle and more complicated to identify. Criminal Poisoning: Clinical and Forensic Perspectives is intended for use by law enforcement, attorneys, and medical providers when investigating a criminal poisoning..
Written by medical practitioners and law enforcement agents, this text is a one-of-a-kind collaboration that delivers the definitive resource for professionals on the topic. The book is divided into three sections: 1) Introduction to Poisoning; 2) Potential Agents Employed in Criminal Poisoning; 3) Specific Classes of Poisoners. The agents chosen for inclusion were chosen either because they have been frequently encountered in past criminal poisonings (i.e. cyanide) or have been infrequently encountered but have been recently present in actual prominent cases (i.e. dioxin) or highlighted in the media due to the potential concern of use (i.e. sodium monofluoroacetate).. What's more, the book delves into who may poison—including the psychological factors that motivate someone to kill—and who may be a likely victim.
For more information on this title, please visit http://www.jblearning.com/catalog/9780763744632/
About the Authors
Christopher P. Holstege, M.D. is an Associate Professor of Emergency Medicine and Pediatrics at the University of Virginia's School of Medicine and Chief of the University of Virginia's Division of Medical Toxicology. His clinical practice is associated with the University of Virginia's Center of Clinical Toxicology. He has published extensively in the medical literature with over 100 publications in medical journals, periodicals, and books. Dr. Holstege speaks extensively on various topics in the field of medical toxicology, with a focus on areas such as criminal poisoners and chemical weapons of mass destruction. He has been integrally involved in the diagnosis and management of a number of high profile criminal poisonings, including the dioxin poisoning of the Ukrainian President Viktor Yushchenko.
Supervisory Special Agent (SSA) Thomas Neer is a 25-year veteran of the FBI with extensive experience in complex criminal and counterterrorism investigations. Since 1995, he has been assigned to the FBI's Behavioral Analysis Unit in Quantico, Virginia where he provides FBI field offices, state, local and foreign police with behavioral assessments on cases involving unusual circumstances or serial offenders. Among his many cases, SSA Neer served as the FBI's principal behavioral advisor during the investigation of Michael Swango, a medical doctor who was convicted of murdering several patients in hospitals. Prior to his career with the FBI, SSA Neer was employed by the Naval Criminal Investigative Service and the Federal Bureau of Prisons.
Gregory B. Saathoff, M.D. is Associate Professor of Research in Psychiatry and Neurobehavioral Sciences, and Associate Professor of Emergency Medicine at the University of Virginia's School of Medicine. A veteran of the First Gulf War, he has treated male and female violent and nonviolent prison inmates who suffer from mental illness since 1991. He also serves as Executive Director of the University of Virginia's Critical Incident Analysis Group (CIAG). In this capacity, he directs the group, which operates as a "ThinkNet" that provides multidisciplinary expertise in developing strategies that can prevent or mitigate the effects of critical incidents. He has written The Negotiator's Guide to Psychotropic Drugs for the FBI's Crisis Negotiation Unit, and he was a co-author of the FBI's threat assessment monograph: The School Shooter. In addition to this, he has published in the areas of personality disorders, police psychiatry, post-traumatic stress disorders, public response to weapons of mass destruction, and biologic psychiatry.
Brent Furbee, M.D. was trained in medicine at the Indiana University School of Medicine (1977). He completed an Emergency Medicine Residency at Methodist Hospital of Indiana (1980) and a Fellowship in Medical Toxicology at Good Samaritan Hospital in Phoenix, Arizona (1991). He has served as the Medical Director of the Indiana Poison Center since 1988. In 1992 he started the state's only medical toxicology service followed by a medical toxicology fellowship in1994. He consults at Methodist, Indiana University, and Wishard hospitals in Indianapolis. He is active in the education of fellows, residents, medical students, and nurses. Dr. Furbee has served as a consultant in several criminal and civil cases in the United States. He was a member of the investigative team for the Indiana State Police in the State of Indiana v. Orville Lynn Majors case, the largest criminal investigation in that state's history. He has authored publications regarding homicidal poisoning and the toxicity of heavy metals, manganese, plants, drugs of abuse, pharmaceuticals, and venomous animals.
About Jones & Bartlett Learning http://www.jblearning.com
Jones & Bartlett Learning is a world-leading provider of instructional, assessment and learning-performance management solutions for the secondary, post-secondary, and professional markets. We endeavor to develop educational programs and services that improve learning outcomes and enhance student achievement by uniquely combining authoritative content written by respected authors with innovative, proven and engaging technology applications that meet the diverse needs of today's instructors, students, and professionals. Across a broad spectrum of fields ranging from medicine and emergency services to computer information systems, our educational technology applications and instructional assessment and performance-management solutions are revolutionizing how instructors teach and how students and professionals learn. With the most up-to-date, authoritative content available from academia and industry thought-leaders, Jones & Bartlett Learning is leading the way for educators, students and professionals to discover new educational and professional skill-development opportunities - enabling personalized learning, anytime, anywhere.
###