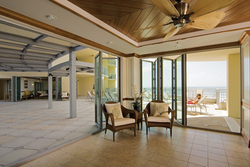 "The new NanaWall SL73 Miami Dade/AAMA Hurricane Folding System provides the ultimate weather protection, sophisticated style, energy-efficiency and durable engineering for single story or multi-story buildings," says Ebrahim Nana of NanaWall Systems.
Mill Valley, CA (PRWEB) June 11, 2010
NanaWall Systems, the leader in large opening glass walls, announces the launch of its hurricane system for mid-rise buildings: The NanaWall® SL73 Miami Dade/AAMA Hurricane Folding System. The NanaWall SL73 offers the beauty of a large opening NanaWall combined with hurricane protection for buildings up to 8 to 10 stories.
With its higher performance ratings, the same NanaWall features and benefits available for low rises in hurricane areas are now available for mid rises in hurricane areas:

Create large exterior openings up to 38' wide to provide expanded room usage to include an outdoor garden or balcony - bringing outdoor light, ventilation and unobstructed views
Protect property without the need for unattractive and inconvenient-to-use shutters
Security with concealed multi-point locking that operates easily with a turn of a handle
Clean lines with narrow stiles and rails to maximize glass areas
Swing door option available for easy access when the system is closed
Complete, engineered system from a single source supplier
The NanaWall SL73 has the following additional features and benefits:

Tested to Miami-Dade County Protocols PA 201(large missile impact), PA202 (structural pressure, air, water, forced entry), and PA203 (cyclic pressure)
Tested to much higher structural performance levels required for mid rises
Tested to higher static water testing required for mid rises.
Tested to new dynamic water testing using pulsating water to closer resemble the wind-driven rain of a hurricane
Thermally broken for optimal energy efficiency and green design
With insulated low-e impact glazing with argon, the SL73 achieves an impressive NFRC certified U value of 0.39 that meets Energy Star requirements for the south zone.
Stainless steel rollers and stainless steel sill track cover for ease of operation
Stainless steel hinges and handles for corrosion resistance along the coast
Dry glazed to make replacement of glass easy, if ever needed
Design Flexibility

The SL73 can be custom sized for openings with as few as one panel to as many as 12 panels with a maximum of 38' wide and custom heights to 8' 3"
Multiple inswing or outswing stacking configurations with options for swing/exit panels for versatile functions.
Choice of single impact, clear or low-E insulated impact glazing with many tint options
ADA saddle and high-performance sills available
From mid rise multi family or office buildings to single family residences, restaurants, spas and resorts, reception halls and recreation facilities, the SL73 is ideal for creating large opening walls for coastal communities. See more details here: http://www.nanawall.com/Products/ProjectPhoto.aspx?id=sl73
"Since launching our first NanaWall Miami-Dade Approved Hurricane System in 2002, NanaWall has been working to develop a folding system for mid-rise applications in hurricane areas," said Ebrahim Nana, president of NanaWall Systems, Inc. "We are proud to offer architects and developers the new NanaWall SL73 Miami Dade/AAMA Hurricane Folding System. The NanaWall SL73 provides the ultimate weather protection, sophisticated style, energy-efficiency, and durable engineering for single story or multi-story buildings."
About NanaWall Systems
NanaWall Systems is the exclusive North American partner of Solarlux, Germany, the world leader in operable glass wall technology. NanaWall Systems' opening glass walls provide flexible solutions to large architectural openings, from 8 feet to 320 feet and are used in houses, condominiums, restaurants, stadiums, schools and more. Nine of the NanaWall systems have been rated, certified and labeled in accordance with National Fenestration Rating Council 100/200. Depending on glass options and system selected, Energy Star U value and SHGC requirements for all climate zones can be met. The NanaWall is unrivaled in the industry for exceeding standards for air infiltration, water penetration, structural performance and forced entry. The NanaWall SL72 and SL73 aluminum folding system are Miami-Dade County tested and can be used in hurricane areas. NanaWall Systems is a member of the U.S. Green Building Association. The aluminum-framed NanaWall uses recyclable aluminum with non-toxic powder-coated finishes. The wood-framed NanaWall can be FSC certified upon request and uses water based finishes. For more information about the NanaWall, visit the award-winning Web site and photo gallery at http://www.nanawall.com .
# # #