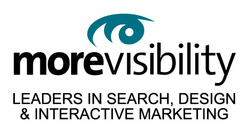 This webinar covers vital information to utilize LinkedIn to its fullest potential
Boca Raton, FL (PRWEB) June 10, 2010
MoreVisibility, in conjunction LinkedIn, is offering a free webinar on "How to Leverage LinkedIn as a Marketing Channel."
The no-cost webinar will take place 1 p.m. (EST) Wednesday June 16, 2010 and will include special guest speaker Andrew Chang, LinkedIn marketing manager along with Danielle Leitch, executive vice president of Client Strategy for MoreVisibility.
During the 45 minute presentation, attendees will learn the following:

Targeting Decision Makers Utilizing LinkedIn DirectAds
Company Profile Creation & Benefits
Optimizing Your Profile to Attract More Customers
Creating and Answering Questions to Drive Leads
How Polls Can Increase Your Customer Awareness
Joining or Creating Groups to Interact Directly with Group Members
Create and Promote Company Events to Drive More Attendance
"LinkedIn is the premier, business social networking tool," said Andrew Wetzler, president of MoreVisibility. "Once an organization, regardless of size, gains a greater understanding of how to leverage LinkedIn, they will be pleasantly surprised at the results. This webinar covers vital information to utilize LinkedIn to its fullest potential."
Wetzler said every attendee of the live or on-demand webinar who registers by June15 will receive a free $50 credit toward LinkedIn DirectAds.
Space for the live event is limited, so it's important to register early by going to our Webinar Page
If you cannot attend live you can register for the on-demand version.
About MoreVisibility
Founded in 1999, MoreVisibility is one of the world's leading Search Engine Marketing, Optimization and Design firms, having helped hundreds of Fortune 1000 companies and small businesses increase qualified traffic to their Web sites. In 2005, 2006, 2007, 2008 and 2009 MoreVisibility was named to the Inc 500/Inc 5000 list of the nation's fastest growing privately owned firms. MoreVisibility is a Google AdWords Certified Partner, Google Analytics Certified Partner, Yahoo Ambassador and a member of the MSN Search Council.
MoreVisibility boasts high client retention through a team of 35 senior professionals who deliver superior performance and measurable results. Notable clients served include Direct Marketing Association (DMA), Children's Hospital of Philadelphia, The Metropolitan Museum of Art, Dairy Council of California, RSM McGladrey, The Mayo Clinic, Travel Nevada, Ritz Carlton Residential Suites and Clemson University. The company is based in Boca Raton, Fla., and can be found on the web at http://www.MoreVisibility.com.
About LinkedIn
LinkedIn is an Internet platform company focused on connecting the world's professionals. The company is privately held and has a diversified business model with revenues driven from user subscriptions, advertising sales and enterprise software licensing. The LinkedIn Web site launched in 2003 and is the largest professional networking site in the world with more than 70 million members, representing 200 countries and executives from every Fortune 500 company.
###