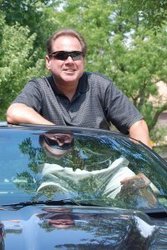 "I realized one great thing about my father was the way he taught by using stories from his experiences. I realized how much easier it was to absorb important lessons when there's no lecture attached."
Chicago, IL (PRWEB) June 10, 2010
Graduates with no jobs and no money, along with those rolling in dough, still can give dad the perfect Father's Day gift this year.
And those graduates would do well to get a copy, too.
Michael Rosenbaum, author of "Your Name Here: Guide to Life," says this year presents a remarkable opportunity for dads and grads to share in a time-honored tradition of passing life lessons from one generation to another. In fact, this tradition led Rosenbaum to transform his own life lessons into the "Guide to Life.''
"My dad died a number of years ago and I was thinking about the legacy he left me, and the legacy I would leave to my kids," Rosenbaum says. "I realized one great thing about my father was the way he taught by using stories from his experiences. I realized how much easier it was to absorb important lessons when there's no lecture attached."
Rosenbaum, a former reporter and current dadblogger at 5minutesforparenting.com, collected stories from his father, along with notes from conversations with everyday people, to bring that story-telling legacy to his own children over family dinners. Finally, he compiled the lessons into "Your Name Here: Guide to Life."
A far cry from preachy self-help books or celebrity biographies offering instruction to us little people, "Your Name Here: Guide to Life" offers a starting point for dads and grads to make a valuable connection about life lessons. Each chapter includes anecdotes from Rosenbaum's life, as well as a note section for readers to record their own stories and lessons.
"Dads try to pass on life lessons all the time, but recent graduates indicate they've forgotten some of those lessons at the exact time they need them the most," Rosenbaum says. "We conducted a survey of recent graduates who told us all the things they wish they had learned before they started out on their careers, but most dads will tell you all these lessons were part of the daily curriculum at home. It turns out that, when parents ask their kids, 'How many times to I have to tell you?' it's not a rhetorical question."
"Clearly, graduation is a great time for dads and their kids to revisit the lessons every young adult should carry into the real world, and this book is an ideal starting point," Rosenbaum says. "In fact, our subtitle is 'The book you'd have written, if only you had the time" because the insights are shared by all of us."
###