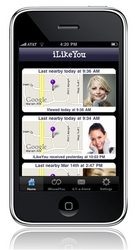 People rely on social networks for interaction with others. iLikeYou was designed with the goal of helping people connect inside the real life social network of which we are all members."
Brooklyn, NY (PRWEB) June 10, 2010
OxOeO Inc. announces the launch of iLikeYou, a free iPhone app that gives its users the opportunity to say "I like you" to someone without them ever finding out, unless they also feel the same way.
iLikeYou uses a location awareness system to connect users who are close enough to see each other, but may not yet be ready to make the first move. When two iLikeYou users are in the same vicinity, each will see a small picture of the other on their iPhone screen. Aside from that image, the identity of the other user is completely private. Touching the picture will bring up an option to send an "iLikeYou" to the iLikeYou server for the person in question. The server checks for a matching "iLikeYou", and if one is found both users are informed they like each other--the ice is broken and a conversation can begin. If it's a one way deal, it stays a secret.
iLikeYou was created by Chris Herbert, a network administrator, who thought that there should be a smoother, more sophisticated way of approaching a potential date than the typical and often beleaguered approach that so many single people have to take.
"Back when I was single," says Herbert, "I would often find myself sharing glances with a girl on the subway or in a café, but I was never comfortable saying anything in those situations. It got me thinking about how cool it would be if two people could make their intentions known without the risk of rejection. People rely on social networks for interaction with others. iLikeYou was designed with the goal of helping people connect inside the real life social network of which we are all members."
iLikeYou takes the awkwardness out of that first introduction. However, unlike other social networking and dating sites and apps, after the initial connection has been established, the work of iLikeYou is done. By making the connection between two users, iLikeYou simplifies the dating process and provides users with the confidence to know that the initial interest is there--a great platform from which to begin a conversation and true human interaction.
Privacy and safety:
iLikeYou does not reveal the name, age, or any other personal information of its users to others. Additionally, the application automatically sets the age range so that users are connected to others who fall within an appropriate range. Using a well-known dating formula, the application takes your age, divides that number by two and adds seven to determine the age range you'll see.
Other Attributes:
iLikeYou also includes a feature called iMissedYou that lets users open a map and put themselves in any place at any time in the past. If any other iLikeYou users were in the same location during that timeframe, they will appear on screen in the app, giving users a second chance to send an "iLikeYou".
Another handy feature of iLikeYou is the ability to send an "iLikeYou" to people in an iPhone Contacts list. This feature, called iLikeYou-a-friend, will check to see if the contact is already an iLikeYou user and register an "iLikeYou," if they are. If the friend is not already using the app, an email is sent to them suggesting they join - keeping the senders name out of it, naturally.
To learn more or to download iLikeYou for free, visit: http://www.ilikeyouapp.com/
###